CONFUSION OVER ALLEGED CHRISTIAN CLERICS' VISIT TO YAR'ADUA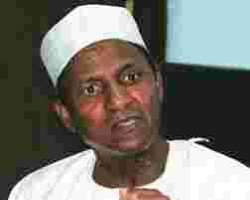 President Yar'adua.
There was confusion on Monday as clerics made conflicting statements on a purported visit to ailing President Umaru Yar'Adua.
While one Pastor Emmanuel Kure of Throneroom Trust Ministry, Kaduna claimed that a team of Christian leaders received invitations to visit Yar'Adua, the Christian Association of Nigeria said no such request had been extended to the CAN.
Kure, who explained that he and the other leaders received separate invitations, said they met on Monday with Yar'Adua for about five to 10 minutes at the Presidential Villa, Abuja.
The Associated Press quoted the cleric as saying that the President was still physically weak but was able to respond to the prayer by the pastors.
He said, 'He is not a Christian, so I don't think he understood what we said on his behalf but (he) was able to grunt out an amen.'
Kure, who declined further comments in other not to 'overheat the polity,' said, 'I was told that (what we saw) is a great improvement from his previous state.'
An online Nigerian news agency, Saharareporters said that Bishop David Oyedepo of Living Faith World Outreach (Winners Chapel); the Christian Association of Nigeria President, Archbishop John Onaiyekan; and a former Aso Rock Chaplain, Rev. Yusuf Obaje, were those at the Villa.
'Myself and three other Christians met him (Yar'Adua) at the Villa today (Monday). He invited us to pray with him,' Kure reportedly told journalists.
AP said the visit on Monday by the Christian leaders might be an attempt by Yar'Adua's closest allies to quiet criticisms over the religious nature of the visit to the President by Supreme Council of Sharia in Nigeria last Thursday.
When contacted, Onaiyekan said that CAN leadership had not been invited to pray for Yar'Adua.
Onaiyekan, who made this known in a telephone interview with one of our correspondents in Abuja, however, said that CAN would accept such invitation if formally channelled.
He said, 'I have not got any such formal invitation. I am only hearing rumours but no formal invitation has got to us.
'If they bring the right kind of invitation, we would of course go. They should send us an invitation, but I have not got any invitation. I am hearing rumours just like you, and it is not fair.
'There is a Christian chaplain in the Villa and he is not aware of any move in this direction.
'They should know how to invite people.'
He further explained that Christians had been praying for the ailing President all this while, advising that the issue of prayers should not be turned into propaganda.
He said, 'As for prayers for the President, you know we have been praying for him, even during this Easter period we have been praying for the President.
'If they are inviting people, it should not be a matter that should become a propaganda issue.
'I do not think that prayer should be a matter for politicking. Let the politicians do their things and leave us alone. As for prayers, we are praying both for Yar'Adua, the Acting President, Dr. Goodluck Jonathan, and the nation.
'Prayer is between you and your God. There should not be any difficulty at all in sending out an invitation.'
Onaiyekan also clarified that CAN had not refused to accept an invitation from the family of the President.
He said, 'I heard that some newspapers reported that CAN refused an invitation.
'But it is not true. How can we refuse what we have not received. If I get the proper invitation, if they invite me personally as Oniyekan, if I am free and I would want to be sure who is inviting me anyway.'
Oyedepo also denied being on the delegation to the Villa on Monday.
The visit on Monday comes after many criticised Yar'Adua for meeting privately with the leadership of the Islamic council on Thursday without addressing the nation.
The President of the Islamic council, Dr. Datti Ahmed, had defended the visit, saying the council wrote the First Lady and was then invited.