Heard Of One Chance? Behold 10 Rogues Promising You Change!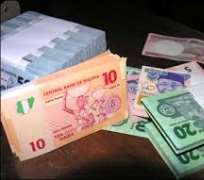 1. Timipre Sylva, former Bayelsa state governor and current APC senatorial candidate for Bayelsa Central.
· Sylya was allegedly charged to court by the EFCC, in February 2012 for alleged misappropriation, money laundering of N6.46 billion belonging to the state.
· Owns 9 houses in Abuja
2. Prince Abubakar Audu, former Kogi state governor and current APC chieftain.
· Prince Audu has a standing case with the EFCC, at a Federal High Court in Abuja, for misappropriation of public funds to the tune of N10,965,837,040 (ten billion, nine hundred and sixty five million, eight hundred and thirty seven thousand and Forty Naira).
· On the hearing date of March 4, 2015, the ex-governor attacked an officer of the EFCC.
· Early this year, his thugs beat up the state women leader of his party. When she reported to him, he allegedly laughed and quipped, "Are you not happy they did not kill you?"
3. Abubakar Bukola Saraki, former Kwara state governor and current APC stalwart aka James Bond
· The high handedness of the Saraki family ran the Societe Generale Bank bankrupt years ago and in 2003, the bank overdrew its capital base by N11billion
· Masterminded questionable waivers of loans and other facilities of about N9.76bn granted by the management of the defunct Intercontinental Bank Plc for personal profit as governor of Kwara
· Mortgaged the state treasury, with numerous bonds and loans sourced to build Zimbabwe farm, Shoprite, Aviation College and Diagnostic Centre.
4. Murtala Nyako, former governor of Adamawa state and APC chieftain
· General Nyako gave N35,209,125.00 to the Speaker of Adamawa to buy a car and gave his Commissioner of Agriculture N19,478,055.00 to travel to South Africa for an International Conference!
· His son, Abdul-Aziz laundered over N15billion funds belonging to Adamawa State into the accounts of five companies owned by him- Blue Opal Nigeria Limited, Crust Energy Nigeria Limited, Blue Ribbon Multilinks Limited, Tower Assets Management Limited and Blue Ribbon Bureau De Change.
5. Danjuma Goje, former governor of Gombe state and current APC stalwart
· Running case with the EFCC since 2011 to answer charges of misappropriating more than 70 billion naira ($450 million) of state funds during his tenure
6. Adeyemi Ikuforiji, Speaker, Lagos State House of Assembly
· Accepted cash payments totaling N273.303 million from the assembly without going through a financial institution
· Used his position to fleece around N500million of House funds
7. Patricia Etteh, Corruption scandal defected to APC in Osun
· Approved over N628 million to renovate her house and that of the Deputy Speaker.
· Called 'great leader' by Osun state governor, Rauf Aregbesola
8. Ahmed Sani Yerima, Former Zamafar State governor and current APC Senator
· Under his administration, the Zamfara State government in 2005 cheated landowners, paying N17.6million for 56 plots of land that were disbursed by his successor, Mahmuda Shinkafi back to Yerima and his cronies as gifts
· Divorced 17-year old bride and married a 13-year old one for $100,000 dowry
· Advocate-in-chief of Sharia law
9. Dino Melaiye, former member, House of Representatives& APC stalwart
· Founder/Executive Secretary, Anti-Corruption Network yet purchased $4million Veyron Bugarri and other choice cars on a lawmaker's salary
· Paid N110m by Rotimi Amaechi to organize anti-government rallies in Abuja
· Serial wife-beater; second wife ran away from his Abuja home after he beat her in a pregnant state
· Had a lovechild with a popular actress and denied both mother and child
10. Bola Ahmed Tinubu, former Lagos state governor & APC national leader
· Owns two private jets
· Bought 26 Bourdillon Road, Ikoyi, his current residence which was initially falsely presented as Oando Plc Guest House using public funds as governor to rebuild and renovate it, then reassigned to himself under Pension Bill he signed in 2007. Worth over N600 million.
· Lagos State Guest House in Asokoro, Abuja was bought by the State Government in 2006 for N450 million and also transferred to him as part of his pension.
· Owns Ilubinrin housing estate valued at N2.5billion, 14-hectare Parkview Ikoyi Estate foreshore land, Goshen Beach Estate, Oriental Hotel, Ikeja City Mall, Fara Park Estate and the Beach Wood Estate and other choice properties all over Lagos.
· Acquired 157 hectares with 2.5km of Atlantic beachfront valued at about N10billion from the communities of Siriwon, Igbekodo, Apakin, etc in Ibeju-Lekki Local Government for a golf course and luxury villa with little or no compensation to the villagers.
· Described by many as 'the most corrupt Nigerian ever', trashing the record of James Ibori, Sani Abacha, Fred Ajudua and co.
· To be continued…
Disclaimer:

"The views/contents expressed in this article are the sole responsibility of

Declan Anosike

and do not necessarily reflect those of The Nigerian Voice. The Nigerian Voice will not be responsible or liable for any inaccurate or incorrect statements contained in this article."