Evans Egbo:The Young Isoko Mandela of Our Time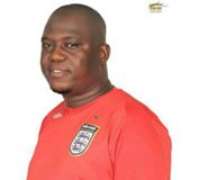 Having aspired to be the Chairman of Isoko South Local Government Area of Delta State in 2014 and stepped down alongside with others for the present Chairman, Sir Hon.Malik Ikpokpo and contested for Delta State Football Association chairmanship position on the 19th of February,2015 and lost to the former Super Eagles Captain , Austin JJ Okocha with some votes, indicated that Sir Hon. Evans Oghogho Egbo has created a niche for himself and Isoko nation.
As a grassroots politician and sports supporter over the years, he knows what it takes to win elections but unfortunately Austin JJ Okocha won the election. He came out of the political oblivion to see that Isoko nation is recognised at the Delta State grassroots sports. He is the present young Mandela of Isoko politics who sees losing elections as stepping stone to political greatness in Nigeria. Isoko nation is relegated to the background in Delta politics because some political opportunists never wanted to suffer defeat than victory only. As the present Director-General of Campaign Organisation to Chief Barr.Orezi Esievo, famously called as'Overflow', Sir.Evans Egbo has become a household name in grassroots politics which convinced the former to see him as a reliable and trustworthy personality to that political task. Having headed several grassroots sports positions in Isoko, and he still remains humble to God in his life. One thing about
Sir.Egbo is that, he knows the value of grassroots sports in Delta State and he was prepared to discover talents for future Super Eagles in Nigeria but God destined Austin JJ Okocha to win that DFA election. Who says Evans Egbo cannot be given any other political appointment in the state if all things work together in Delta politics. He is the true son of Isoko politics unlike some people that contested in Delta State and decided to defect to other party for one political reason or the other but he still remains in PDP.
In the just concluded DFA election, Hon. Malik Ikpokpo, the Isoko South Chairman posted a campaign support for Sir.Egbo on his facebook page and he drew a political analogy while he must be supported that indicated the said campaigner has fulfilled his political obligation in Isoko politics. Has a former councillor and House leader, he has the political structure to win any election in the state, if cetris- paribus politics is fully applied. In any game contested for, somebody must emerge as a winner which Austin JJ Okocha has demonstrated. If late Nelson Mandela never fought for the emancipation of South African people, today the country would have been hijacked by the foreigners. Sir. Egbo fought for the recognition of Isoko nation in grassroots sports in Delta State not as spectators or onlookers. Credence must be given to a young man who saw the need to be added to the hall of fame of Delta politics.
Again, Sir.Egbo was also encouraged by some few Isoko sons and daughters that saw the need for him to further his political ambition on earth like Prince Johnson Erijo, Mallam Obi, Barr.Orezi Esievo and host of others. Though, he lost the election but saw every reason to appreciate these Isoko political personalities. The sky is just the beginning for Sir.Egbo to take Isoko politics to the next level and that is why the Lagos-based media house Mindset described him as 'Isoko Mandela of Our Time'. No doubt about it, he is a man of the people with integrity. He is one Isoko young philanthropic politician and entrepreneur ever birthed in recent times. He is one of the Isoko vibrant politicians in the social media whose contributions to Isoko nation are worthwhile. Hon. Evans is not a politician that throws expletive words on his political opponents even as a Director-General of Campaign Organisation to Barr.Orezi Esievo unlike some unfortunate DGs
that used Facebook platforms to throw invective words on their opponents but only sees politics as a game of number not enemy. At 42, Evans Egbo has long political future to fulfil and able to prove to all Isoko people that leadership development is at his finger tips. He remains the future politician to watch out for in Isoko nation.
Godday Odidi
Public Affairs Analyst/Mindset Media Limited
08058124798
Lagos
Disclaimer:

"The views/contents expressed in this article are the sole responsibility of

Godday Odidi

and do not necessarily reflect those of The Nigerian Voice. The Nigerian Voice will not be responsible or liable for any inaccurate or incorrect statements contained in this article."
Articles by Godday Odidi