Even as an air hostess, I had a deep passion for music –Oluyinka Ayanda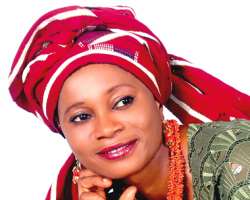 Oluyinka Ayanda faces her job at Arik Air with as much enthusiasm as she looks forward to the final release of her maiden music album. A glance at the smartly dressed air hostess, as she attends to the needs of passengers on board her plane, would reveal just how much she is committed to her job. Yet for this lively lady, playing the hostess only ranks next to her childhood ambition of ruling the Nigerian music scene. And with the arrival of her new album, which is titled 'Teni n Teni', that dream appears to be on the path of manifestation anytime from now.
A mother of two children, it is a wonder how Ayanda manages to combine the rigor of working as an air hostess and stringing up a music album on the side, with minding the home front. But she said to our correspondent, "With God on my side, I have been able to manage. When I am not flying, I will be rehearsing. I go to the studios with my producers to do one or two things. When I am off duty, I do my music. And when I am not flying and I am not doing my music, I stay with my children, at times I take them out. But when it is time for business, I go and fly. When I was working on my album, at times when I closed very late, I went straight from the airport to the studios to work and from the studio the next morning I knew I would be off, I would do one or two things and I would go home to rest".
She told Saturday Punch how much she had wanted to start a career in aviation. She had stuck to her dream all the while, even when things appeared to get too tough and bad enough to abort it. After getting a bachelor's degree in English Language from the then Ondo State University, Ado Ekiti, she had proceeded to train privately for a job in one of the available airlines in the country.
"When I finished my degree programme, I did not look for a job immediately. I was engaged in some trade and I used the proceeds to train myself privately as an air hostess. I was doing that until I got to the license stage. Fortunately for me, immediately I finished training, I got a job with Premier Airline in conjunction with IRS and I worked there for sometime before I got here in Arik," she said.
Being an adventurous person, she explained with a giggle that her attraction for the job was nothing more than doing something challenging. "I believe in trying things out, things that people think are not possible. I like trying my hands on tasking vocations to prove a point that with determination and passion, nothing is unachievable. Maybe one day, I will see myself on the space," she added.
Ayanda is quite fortunate, considering her busy schedule, to have fulfilled her dream of becoming a music artiste, even as an employee of Arik Air. Since her current foray into music hardly interferes with her job, nobody seems to be raising an eyebrow. Apart from that, her bosses and colleagues seem to be proud of her achievement. She said, "You don't call me up for a flight and I give you excuses. I try as much as possible to be up and doing. Once I am dressed up for work, I forget the other side of me and I put my passion in whatever task I am given. I am not a lazy person. Sometimes when I am off duty and I am not making music, I get bored easily. Here in the office, as you can see, people are friendly. For the album launch, I made things official. I wrote a letter to my superiors informing them about the launch. They are even happy that I am making them proud because whatever you want to say or write about me now, you will mention the airline and they are happy that I am their ambassador."
Tracing her passion for music to her days as a teenage member of the choir of a Cherubim and Seraphim church in Mushin, Lagos, she continued, "I used to work with an uncle who performed at social functions. I also participated in some social programmes while in school. For instance, I was the leader of the cultural group in my primary school.
"I was also a member of the cultural group in my secondary school. In fact, I took after my mother's family who sings traditional music at social functions but not as professionals. They are talented and have good voice. They often perform cultural songs during weddings and other ceremonies. I grew up listening to the music of Victor Olaiya, King Sunny Ade, Ebenezer Obey and others. Now I love listening to the music of Yinka Davies, Shola Allyson and Asa. They are my role models. I have been trying to do this all my life. My producer, Julius Olagoroye aka Julie King had been on my neck even before I went to the university. But I always ran away from him because I didn't want anything to distract my attention as a student. Then recently, he brought the idea once again and I decided to give it a trial."
Ayanda described her new album as deeply rooted in Yoruba culture and tradition. It was her own way of appealing to her people to continue to uphold their culture and tradition. So fiercely proud of her cultural heritage, she is one woman who believes that there is truly no place like home. "I have traveled far and wide and discovered that there is no place like home. Home is home. I love to speak the Yoruba language a lot. I appreciate the language. Anywhere I go, even outside Nigeria, once I see that you are Yoruba I would never speak English to you. My culture reflects in the way I dress and behave. Once I know you are older than me, I give you your due respect," she said.
Dismissing the general notion that air hostesses and crew members could be wayward because of the nature of their job, Ayanda said such a perception could be sweeping. She said, "It depends on the individual and on the perception of the person saying that. We have a lot of married people here, we have people that are just getting married; we have people that got married when I started work here. I am a mother; we have mothers and fathers here. You don't have to be an air hostess to be promiscuous. Marriage is a thing of the mind and I don't blame people who have issues in their marriages, after all, we are all human beings. You could work in the bank and be promiscuous; you could be a journalist and be promiscuous; you could be a doctor or a nurse and yet be promiscuous. There is no rule that says that an air hostess could not meet a single man on board and get married to him. If you meet someone you love, of course, you could go for the person. If you don't meet on board, what if you meet at bus stops?"
Ayanda wants to get a message across to Nigerians through her music. According to her, the essence of her art is social rebirth. She believes the time is ripe enough to address the problems that affect the Nigerian society and music is sure to be one of the most likely tools to achieve this.
"If you watch the music video of Teni n Teni, you see a guy that is supposed to prostrate for his father offer his hand for a handshake, maybe because he has gone abroad or acquired the ways of the West. I don't know whether you see this thing that they call 'sagging' among guys or girls who expose their G string pants all in the name of fashion or civilisation. These things turn my stomach. I travel a lot but for God's sake, we have our culture that is even more decent than the ones our children now ape.
"Some of our people and their children can not speak Yoruba again. When you listen to my music, you discover that my Yoruba is unadulterated. All these people that we are copying, they don't see us as anything. No matter how you train your child in English language, he cannot go to London and get a white collar job. There are certain positions that your child cannot attain in London, so what is the point in all of us desiring to go abroad at all cost and be ready to do anything to survive?" she told our correspondent.
Story by nollywoodgists.com