Bring Back Our Girls...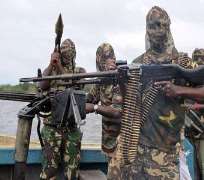 Some parents of 219 abducted schoolgirls and concerned members of Chibok community have condemned the recent visit by the Federal Government officials to Chibok which was led by Hon. Minister of Finance, Dr. Ngozi Okonjo Iweala pledging for rebuilding the school, insisting that what they are after is to bring back their children.
Addressing Journalists at the Borno State Hotels in Maiduguri, the Borno state capital which was attended by hundreds of chibok people residents in Maiduguri, the Caretaker Chairman of Chibok Council Area, Mallam Ba'ana Lawan accused the federal government of making several promises to rescue the 219 abducted schoolgirls, but to no avail.
He also expressed dismay over the FG's move to rebuild Government Girls Secondary School, GGSS, chibok which was destroyed by the insurgents after abducting the schoolgirls, stressing that the traumatized parents and the entire people of Chibok community only want their children back home.
" It is disheartening to inform you that since the abduction of these girls, the FG did not bother to send delegations to Chibok to sympathize with the parents, instead, the parents were invited to Abuja and conveyed in cargo military plane with no comfort whatsoever.
" we still observed that recently, President Goodluck Jonathan visited Mubi and Baga, but failed to visit Chibok to sympathize with our people.
"We also observed that the President and Chief of Defence Staff, Air Vice Marshal Alex Badeh had severally promised that these girls will soon be released, but is it is now more than 300 days, and nothing of such happened, we thank God and appreciate governor Kashim Shettima and his wife, Nana Kashim Shettima who did not only visit Chibok when the incident took place, but also secured admission to the 59 schoolgirls that escaped from the boko haram to study in various schools in the country and all assistance he has rendered to the parents.
" It is most unfortunate that Chibok Local Government Area has witnessed six different attacks by insurgents and about 300 people lost their lives with property worth millions of naira destroyed, hundreds of houses razed down as well as food and cash crops looted. The most recent attacks being that of Gatamwarwa, Kautikari and other surrounding villages where several lives were equally lost. Yet there was no response from the federal government.
"We therefore condemned the reason whìch is best known to the FG for embarking on the project instead of bringing back our girls as severally promised but decided on embarking on the reconstruction of the (GGSS Chibok)". Lawan stated.
He however appreciate the persistent, efforts of the '#BRING BACK OUR GIRLS' group in Abuja who have been pressurising the FG to intensify effort in rescuing the innocent girls as well as the media in their consistent effort to ensure that the girls are being freed safely.