About Foluke Daramola's Bad Behaviour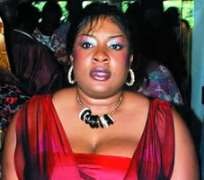 Foluke Daramola is no doubt one of the most outstanding Yoruba actresses when it comes to role interpretation, but one thing she needs to work on is her arrogant nature, which a lot of her fans have been complaining about.
Sometime last year, a fan of Foluke, who saw her one on one for the first time at a shopping complex, complained of how the actress ignored her pleasantries.
"I was actually greeting her, but she just walked out on me arrogantly. It was so embarrassing, not just because it was in a public place, but because she was somebody I used to admire so much," the fan fumed.
Apart from that, those that had at one time or the other spoken with Foluke on phone have similar tales to tell.
While nollywoodgists.com is still trying to find out whether the allegations are true or not, the naturally endowed actress called last week and made her true colours known. Indeed, she needs to control her ego and learn how to relate with people in a more mature way because she ought to be a role model to young ones.
Story by nollywoodgists.com