In memory of Awolowo.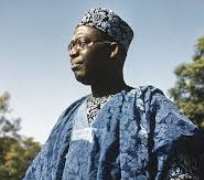 I am elated every time people of other ethnies in Nigeria for one reason or the other get jealous of the Yoruba race, and ecstatic when they allude to Obafemi Jeremiah Awolowo as the reason for a perceived dominance or superiority by the Yorubas.
Obafemi Awolowo who was borne on the 6th of March 1909 in Ikene Ogun state, would be reminded for several things by several people.
He was a teacher, lawyer, a nationalist and a statesman. He was the first premier of the western region and the leader of the opposition in the first republic.
As politician and a sage Awolowo believed in welfarism and pursued policies which were a tuned to the best interest of his constituency; be it Nigeria or the Western region.
He would be remembered by posterity for his "infamous"role during the Nigerian civil war (1967-1970) and for his distinctive service to the Nigerian nation state.
Few would like to recall memories of the 'Asiwaju omo odua' as one who played the ethnicity card on his bid to gain power in the western region against the formidable Nnamdi Azikwe (Zik of Africa). More still would like to forget the role of the sage in the western region crisis(1962-1966) which is widely considered as one of the remote cause of the 1966 coup and the scuttling of the first republic.
At this time, it important we re-examine the life of this controversial politician and sage. First, we must remember the life of Awolowo for his service to fatherland and his dedication to the course of ordinary citizens.
Also, we must remind ourselves of the pains and problems the sage and his followers caused in the western region in his power tussle with Chief Ladoke Akintola, and ultimately the nation.
We must also not quickly forget that more than service and controversy the man Awolowo was always a student; learning, a researcher discovering; better ways of improving human lives and a social developer; who had an outline of plans and ways of implementing his philosophy in the form of workable dynamic manifesto.
By Sonubi Tobi Olatunde
Follow on Twitter @tshotolat
For more by this author visit tshoafrica.WordPress.com
Disclaimer:

"The views/contents expressed in this article are the sole responsibility of

Sonubi Tobi Olatunde

and do not necessarily reflect those of The Nigerian Voice. The Nigerian Voice will not be responsible or liable for any inaccurate or incorrect statements contained in this article."