Delta APC Governorship Candidate Insists On Card Readers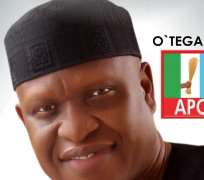 The governorship candidate of the All Progressives Congress in Delta State, Olorogun O'tega Emerhor, has insisted that the Independent National Electoral Commission (INEC) must use cards readers to accredit voters before voting in the upcoming elections.
In a release by the Director of Media and Political Communication of the O'tega Emerhor Campaign Organisation, Dr. Fred Oghenesivwe, said Emerhor faulted calls for discarding the use of card readers by the People's Democratic Party (PDP).
"How can they say card readers should not be used because they are untested? We have to start from somewhere and the time to start using card readers is now. Moreover, INEC has been test running the devise and even demonstrated it in the senate chambers. Between now and the elections they still have time to continue test running and perfecting the use of the card reader," he added.
Oghenesivwe quoted Emerhor as saying that "those clamouring for dumping the card reader are looking for a window to rig the elections. Rigging has always made nonsense the will of our people; now we have a devise that will help make genuine votes count, some people are complaining. They want to abandon a very useful devise that has cost billions in tax payers' money. APC will resist any such calls."
He further asserted that the Fani Kayode's series of attacks on APC Presidential candidate, Gen Buhari is a pointer to the fact that the APC is miles ahead of the PDP in this year's general elections, adding that the yearnings and aspirations of Nigerians for a "change" for good governance and socio-economic advancement as contained in the APC manifesto can never be watered down by the on-going political propaganda against the APC and its candidates across the country by the misleading media machinery of Chief Fani Kayode.
Dr Oghenesivbe is optimistic that the APC will sweep the polls in March and April, which is why his party at the national level and in Delta State is urging the INEC to stick to its patriotic vision of conducting free and fair elections through the use of cards readers.