Nigeria plan to avert pay dispute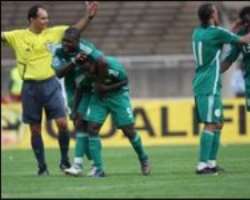 The Nigerian Football Federation (NFF) wants to sort out World Cup bonus payments for its players long before the start of the 2010 event. The NFF wants to resolve all financial issues in good time so that there are no disputes disrupting preparations.
Nigeria's campaign at the 1998 World Cup was thrown into turmoil by a row over bonuses.
"The NFF plan to have a harmonised agreement with the players," its spokesman Ademola Olajire told the BBC.
Football's world governing body Fifa has announced a grant of US$1 million for each team taking part in South Africa 2010.
That has prompted the NFF to decide to open talks with the Super Eagles players.
"It is crucial to have this meeting with the players to prevent any form of misunderstanding which could derail preparations and execution of this tournament," Olajire said.
"Once we are transparent and stay on the same page with both officials and players, the focus will firmly be on the football."
In France in 1998 Nigeria topped their group after opening the competition with a shock win over Spain.
But in the days preceding their second round game against Denmark, disputes over match bonuses stoked the fire of discontent in the Nigeria camp.
In the wake of the row, Africa's remaining flag-bearer slumped to a 4-1 defeat to the Danish side.
"Unfortunately many people have already started talking about the money and referring to past incidents - but everything will be sorted out before we get to South Africa for the World Cup," Olajire said.
"This is a positive step forward for a successful campaign - off the pitch that is."