East/West road dualisation attains 90% completion - Minister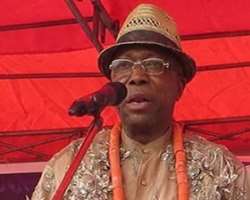 The Minister of Niger Delta Affairs, Dr. Stephen Oru on Thursday disclosed that the strategic East West Road dualisation project has reached 90 percent completion.
Oru who made the disclosure while receiving the Delta State Commissioner Special Duties in Charge of Abuja Liaison Office, Joel Bisina, said the Federal Government was serious about completing the N386 billion project which spans from Warri in Delta State through Bayelsa, Rivers,  to Eket in Akwa Ibom State.
The minister explained that besides the Delta section which is close to 100 per cent completion, 'I am glad to inform the house that the East West road is now 90 per cent completed'.
He assured Bisina that the ministry would support the effort of the state government to improve the welfare of its citizens, noting that the ministry was involved in over 200 youth training programmes for young people in the oil rich Niger Delta region.
Earlier, Bisina explained that as the commissioner task with looking after the affairs of the Delta State government in the Federal Capital Territory (FCT), he has been working with leaders of Delta State indigenes on ways to represent the state well in the nation's capital.
He said he and his team was working at mobilising Deltans to participate actively in the 2015 general elections both in the FCT and in Delta State.
'We have been working assiduously in the FCT to mobilize the community to actively participate in the general elections. We have well over 5,000 Deltans resident in the FCT and its environs and quite a large number of them are registered at the state level while others are registered here in Abuja,' he explained.