ANNAN WELCOMES ICC DECISION TO INVESTIGATE KENYAN VIOLENCE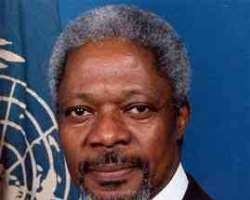 African Union Panel of Eminent Personalities Chairman and former UN Secretary-General, Mr. Kofi Annan, has welcomed the decision by the International Criminal Court to investigate the 2008 Kenya election violence.
In a statement made available to PANA, Annan said, 'I salute the decision taken by the Pre-Trial Chamber II to grant the request by Mr. Luis Moreno-Ocampo, Prosecutor of the International Criminal Court, to commence an investigation on crimes against humanity allegedly committed in Kenya.
'This is an important day for justice in Kenya. Justice for the victims suddenly looks brighter. I urge all concerned to fully cooperate with the ICC,' he said.
Moreno-Ocampo has been directed by the ICC in The Hague, The Netherlands, to investigate the role of senior politicians in Kenya's post-election violence in 2008.
The Court's decision has opened the way for the Prosecutor to take the likely next step of indictments against politicians, some of whom are members of the cabinet in the power-sharing government of President Mwai Kibaki and Prime Minister Raila Odinga.
Kenya's presidential and parliamentary elections on December 27, 2007, judged by international observers as deeply flawed, sparked communal violence that left nearly 300,000 internally displaced.
The Panel of Eminent African Personalities, chaired by Annan, was established by the AU in January 2008.
Its other members are former Tanzanian president Benjamin Mkapa and Mrs Graca Machel, wife of South Africa's first post-apartheid president Nelson Mandela.