LIKE ALCIBIADES LIKE OBASANJO.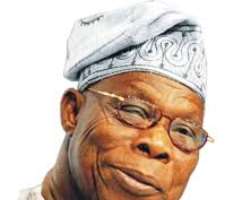 "Well, nothing will change, you know? I will be in Ota but we will be running things. Everything will remain the same, you know, you will remain in government, the economic team will remain. Nothing will change. Only I will move to Ota and Yar'Adua will be here but we will be running things"
Chief Olusegun Obasanjo to Mallam Nasir El - Rufai in 2007 drawn from Page 361 of The Accidental Public Servant.
Has anyone ever thought about why emerging Nigerian leaders who are young have a challenge identifying a role model from among political leaders? The reason is not rocket science. It is simply because most existing political leaders represent nothing; believe in nothing and live for nothing; not even their respective creators or their immediate families. Their life style and approach to issues is still largely based on the mundane any-where-belle-face approach.
Lately, I have been reading about Nigerians who have a strong presence in the global business scene, who have also successfully carved a niche for themselves as trail blazers in their field - a status they achieved by adopting a blend of smart and hard work, integrity and resilience. Top on my list are Seplat's boss, Dr. Ambrosia Bryant Chukwueloka Orjiakor who ranks at par with Nestoil's Ernest Azudialo Obiejesi. Before these gentlemen, I studied CAMAC's Dr. Kase Lawal, Dr. Mike Adenuga Jnr. and Dilly Umenyiora of Dilly Motors. At a point, I worked for an organization managed by smart minds like Herbert Wigwe, Barr. Aigboje Aig-Imokhuede, Obinna Nwosu, Barr. Gbenga Oyebode and Dr. Cosmos Maduka so it is expected that I will have studied them. A unifying attribute I discovered about all these men is integrity. No one has it like Barr. Aigboje Aig-Imokhuede. No one cherishes it as Dr. Ambrosia Bryant Chukwueloka Orjiakor and no one lives it like Dr. Cosmos Maduka. Perhaps, it's a unique attribute that has made it easier for them to excel where their peers would ordinarily fail without remedy.
Few days after the INEC declared Late President Umaru Musa Yar'Adua winner of the 2007 general elections, the statement captioned above was made by ex- President Chief Olusegun Obasanjo (then outgoing President) in response to the accidental public servant who inquired to find out from him what plans he had next since his administration had a few days to its formal expiration. The president had just failed in a bid secretly initiated by him to amend sections of our laws that made it compulsory for him to relinquish power in May 2007. While most Nigerians thought all he wanted was a third tenure, I am of the (firm) view that if that attempt to alter the constitution had worked taking effect from 2007, he will have been afforded an opportunity to be Nigeria's president for another three (3) terms.
With all battles to amend our constitution falling flat in his face, he offered the Late President Umaru Musa Yar'Adua a chance to be president after GEN. MUHAMMADU BUHARI OF THE DEFUNCT CPC roundly rejected his Greek gift offer to defect to the PDP and claim the ticket. With Umaru on the front seat, he nursed the emergence of current President Goodluck Jonathan as his running mate on account of his rare "loyalty" to ex-governor Diepreye S.P. Alamieyesigha and humility. So far, this calculation has become his undoing as the death of President Umaru Musa Yar'Adua revealed the once loyal Goodluck Jonathan to be actually a subtly decisive and maverick man who moves only when he decides and determines whose advice to defer to on any matter.
At the end of the Obasanjo presidency, I had looked forward to his smooth translation to a Pan-Nigerian statesman in the rank of the Late Nnamdi Azikiwe, Rt. Hon. Nwafor Orizu, Chief Obafemi Awolowo, Sardauna Ahmadu Bello and Maitama Sule. On the continental scene, I expected my ex-party man to become the golden voice of Africa being heard side-by-side that of Kofi Annan, Jerry Rawlings, Thabo Mbeki, Bishop Desmonds Tutu, Late Meles Zenawi and Emeka Anyaoku. If those heights were too tall, he could have remained a local champion wearing the same tag with Chief Ralph Uwazurike of the MASSOB, Otunba Gani Adams of the OPC or even Chief Asari Dokubo of the NDPVF but what did I get? An ex-president who thinks respect from an incumbent shouldn't be earned but must be accorded to him as a right. An ex-president who blackmails an incumbent because the later does not seek his counsel before taking crucial decisions even if the decisions are right. An ex-president who readily lies to the world about the existence of a killer squad created to eliminate "marked" opposition leaders. An ex-President who teaches on matters related to credible elections but once won elections with 500 votes in polling booths where less than 100 persons actually voted. This is below my expectation by all standards.
No doubt, ex- President Chief Olusegun Obasanjo is deeply pained. His ego has been brutally wounded by a presidency that has refused to be an extension of his farms as a result of which he decided to launch a media offensive against that institution the latest of which was his public denouncing of the Peoples' Democratic Party and a public show of a ceremony wherein his membership card (no one is sure it's his only card) was torn to shreds by an ally of his. Chief Obasanjo reminds me of Alcibiades; an ally of Socrates who had a very beautiful dog. So beautiful was this pet that it was always talked about in town. Suddenly, the animal stopped being talked about; a development that got Alcibiades worried. On a certain day, he drew a knife and slit the tail of the dog by half, an event that got the entire town talking about the dog again. When some inquisitive natives inquired from Alcibiades the reasons for his action, he casually replied that it was merely in order to ensure he keeps being in the news.
His latest action cannot be far from the conduct of Alcibiades who desperately wanted to remain in the news at all costs; the reasons not withstanding. Unfortunately, the old Chief has missed his steps because Nigerians are tired of such open display of hypocrisy by a presumed elder. Granted, he cited the emergence of Prince Buruji Kashamu as leader of the Peoples' Democratic Party in the South West as one of the reasons he decided to quit politics but is Prince Buruji Kashamu actually the leader of the party as he alleged? Even if he is, it is important I emphasized that the (drug) matter (Chief Obasanjo is citing as excuse) is subject to litigation at relevant courts, none of which have pronounced Prince Kashamu guilty of any crime as I write. Why then should Chief Obasanjo whose contempt for the courts and laws knows no bound suddenly arrogate to himself the powers of the courts to pronounce a fellow citizen guilty in a case that had been on at a time he was known to be relying on the same Prince Kashamu for funds with which he prosecuted a needless war against Otunba Gbenga Daniel?
If integrity did not mean anything to some Nigerians, I wonder why the All Progressives' Congress is suddenly finding in Chief Obasanjo an ally. A man who had a golden chance to lay the foundation of a modern Nigeria but spent that time waging wars against states whose governors are perceived to be disloyal to his stool. As I write, stable power supply is yet attained in Nigeria yet some abysmally low thinking citizens consider it an achievement to have in their coven of aggrieved citizens (as Chief Navigator) an ex – president who spent a mind blowing $16B on the power sector alone. Pray, what manner of change does this mean? Chief Obasanjo handlers must honestly make him understand the truth that Nigeria has grown beyond Ibogun Olaogun. So tremendous have we grown that the behavior of one man cannot be our limiting factor as a people.
As an individual, I look forward to emerging among the next generation of leaders who will drive development and raise the bar of leadership on the African continent leveraging on shared new knowledge and acceptable alternatives hence I will remain critical of all known forms of Owambe politics which the likes of Chief Obasanjo and Bola Ahmed Tinubu are masters at. The older generations have failed me, my peers and Nigeria. Now is the time for a new set of young leaders to emerge.
Ezeani, Chukwunonso Elvis is the Director of Communications, Research & Strategy at the Peoples' Democratic Party National Youth Frontier. He can be reached via @NonsoEzeani1
Disclaimer:

"The views expressed on this site are those of the contributors or columnists, and do not necessarily reflect TheNigerianVoice's position. TheNigerianVoice will not be responsible or liable for any inaccurate or incorrect statements in the contributions or columns here."
Articles by Ezeani Chukwunonso Elvis