Interim Government: Plot to stop Jonathan's re- election, say ex-ministers, ambassadors, Abacha's son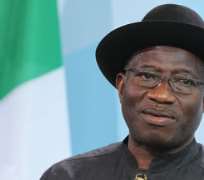 Addressing Journalists yesterday in Abuja, Chairman of NASA and former Minister of Sports and Social Development, Saidu Samaila Sambawa called on the Chairman of Independent National Electoral Commission, INEC, Professor Attahiru Jega to conduct for Nigeria and Nigerians, free, fair and credible elections March 28 and April 11 respectively.
Flanked at the briefing by former Minister of Information, John Odey; former Police Affairs, Caleb Olubolade; Assistant Secretary, Conference Proceedings of the 2014 National Conference, Akilu Ndabawa, former Nigeria Ambassador to Spain, Amb. Yusuf Mamman, Mohammed Abacha, among others, Sambawa who asked INEC to use the postponement of the elections to understand the circumstance and adjust, stressed that 23.71 Million Nigerians would have been disenfranchised if the polls took place last Saturday, February 14 because of non collection of Permanent Voter Cards, PVCs.
He said, 'Another issue of concern that NASA deliberated on is the on-going subtle campaign for an interim government in order to deny President Goodluck Ebele Jonathan of his anticipated victory in the March 28 Presidential election. The concept of interim government is unknown to 1999 constitution as amended. Therefore, on no account shall this unconstitutional interregnum be acceptable to our fellow Nigerians.
'We therefore call on all well-meaning Nigerians to resist any attempt to subvert our democracy. NASA invite all well-meaning Nigerians, the international community and civil society organization to cooperate with INEC and the security agencies to ensure a credible, free and fair election come March 28th and April 11th, 2015.
'A whooping 23 million voters had not collected their PVCs, as shown in INEC's figures due to shoddy preparations. As at feb 17th INEC had released new figures for the collection of the PVCs which indicated that 52.23m or 75.88 percent have now collected their PVCs. This means that 16.6m registered voters representing 24.22 percent are yet to collect their pvcs. It is worth noting that the postponement had enabled 6.4m more registered voters to collect their pvcs. If the feb 14 election were held, these Nigerians would have been disenfranchised.'
On Voter Education, the group said, 'INEC grossly neglected its responsibility to carry out adequate voter education especially in a country like ours where literacy level is low and voter apathy is high. NASA believes that the Commission did not make available enough literature in both print and electronic explaining the new voting process of using the PVC and VCR in various Nigerian languages. Yet Jega said 'we are ready for elections.'
On Internally Displaced Persons (lOP's), NASA said, 'The North East states of Adamawa, Borno and Yobe where the dastardly activities of Boko Haram insurgents have created several thousands of Internally Displaced Persons (lDPs) has not been addressed by INEC with all the seriousness it deserves. Adamawa has 1.5m registered voters, Borno has 1.9m and Yobe 1.1m. With a combined total of almost 4.1m registered voters they cannot be ignored in a keenly contested election like the 2015 Presidential election. Presently, no one knows if they will vote with Temporary Voters Slips (1VSs) , PVCs or registered afresh. There is no transparent and acceptable method of voting for these persons at the moment. Furthermore, the voting rights of a substantial number of voters who have relocated from the North to the South and vice versa has not been addressed by INEC. Yet INEC says 'we are ready.'
'From the foregoing, it is clear that INEC's level of preparedness leaves much to be desired given that the Commission had almost four years to prepare for these elections. INEC should seize the opportunity that the six weeks extension provides and get its acts together to forestall plunging the Nation into uncertain political, legal and constitutional crisis. INEC had severally promised that the 2015 general elections will be better than the 2011 elections which were adjudged to be free, fair and credible by both local and foreign observers, but it is apparent that. INEC is not working in that direction.' – Vanguard.