Obasanjo, Tearing His Party Membership Card Is Symbolic Of The Coming Of A Splitting Nigeria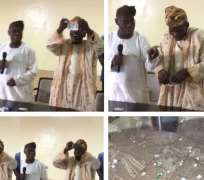 Psychologically, former president, Olusegun Obasanjo, the first democratic president of the nation since 1999, chose to act out his inner political pains on behalf of a country in conflict through the symbolic tearing of his personalized party membership card.
Although he is not perfect, Chief Obasanjo, remainsin tears as he sees the present Nigerian government in the hands of weaklings and lousy leadership and,while he is not necessarily in love with the thought of an autocrat like retired General Muhammadu Buhari,would feel less pain than he does with the nation under the present administration which he sees as a shameless departure fromnormalcy.
The card tearing is an alarming sign of his helplessness over his now politically distant son, President Goodluck Jonathan, a man he sees as a collective threat to the future of Nigeria.
Just like theshreddedcard, if only he could do the same to Jonathan, to the politicized security agencies, and to the increasingly powerful influence of an international runaway criminal in this administration. But he knows he can't so instead he chose to "tear" this dysfunctional governmentsymbolically represented by his party membership card.
Obasanjo sees in Jonathan a man leading a government entrenched in the highest form of corruption, leading a dying economy, and leading a confused and failing military system in the face of Boko Haram's sowing trepidation.
Obasanjo wishes he could shred what he sees as a shameful military body, a miserable police system, and a dying nation, and magically restart all of them again.
But he knows he cannot tackle Jonathan and his crooked leadership.
Obasanjo remains politically lonely here at home.He continues to withdraw from national meetings or events tied to this government, and would rather travel far outside of the nation to feel less politically drained and miserable.
Obansanjo's only wish is that he could effect some form of magic pressure over the people, magically take control over the election system, dramatically shred into pieces the Jonathan presidency, and pave the way to salvage a country he so much loves, a country he has been and is still willing to die for.He knows he can't, so he goes for the lightest, simplest and personalized thing, a card. With the help of a fellow Nigerian, the card is torn,falling into pieces on the floor, spreading into red, green and white colors, fervently hoping that this is not the fate of our young nation in the coming days and weeks. Very soon we will all see how this ends.
Dr. John Egbeazien Oshodi is a Forensic/Clinical Psychologist, a Consultant in National Psychology, and a former Secretary-General of the Nigeria Psychological Association. [email protected]
Disclaimer:

"The views/contents expressed in this article are the sole responsibility of

Dr. John Egbeazien Oshodi

and do not necessarily reflect those of The Nigerian Voice. The Nigerian Voice will not be responsible or liable for any inaccurate or incorrect statements contained in this article."