UPSURGE IN EYE DEFECTS WORRIES EKITI GOVT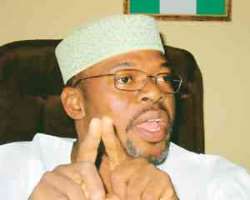 Governor Segun Oni of Ekiti State has said that his administration has noticed an upsurge in the number of patients with eye defects in the state.
The governor, who said this in a speech delivered on his behalf on Thursday at the distribution of free eye glasses to patients by the Ministry of Health, also said that the state government had moved to tackle the problem.
Oni said, 'The establishment of an eye centre in the state is based on the government's reaction to the noticeable upsurge in eye defects among our people. It shall be a world class centre with modern facilities and shall be capable of attracting patients from all over the world.'
Oni also said that the state government had entered into a 'service agreement with a Cuban firm, Messrs Sevicios Medicos, on preliminary or service component of the project which would cost the Ekiti State government 4,260,000 euros or N894,600,000.'
To show that the state is serious in addressing the eye problems, Oni said that his administration had paid the first tranche and that subsequent tranches would be paid.
The governor said that his administration's special attention to the treatment of eye problems was predicated on the special importance of the eye to the wellbeing of humans.
The state Commissioner for Health, Dr. Femi Thomas, also corroborated the claim of an upsurge in the number of patients with eye defects.
He said, 'Between 2007 and 2008 when the eye treatment programme commenced, a total of 12,841 persons were diagnosed with different types of eye defects.
'Out of this number, 9,000 were given eye glasses. Further to this, 469 patients had undergone eye surgery while 3,372 patients were treated with drugs.'
'The instant programme, which started in January 2010, had registered 4,249 patients. Out of this figure, 402 patients with cataract had been diagnosed. 322 had glaucoma, 136 with pterigium while 831 had refractive cases.
'It will interest the governor to note that 45 patients with pterigium had undergone successful operation. A total of 1,188 eye glasses are being distributed today.'
The commissioner said that a medical team from Cuba was on ground at the ophthalmology centre at the University Teaching Hospital, Ado-Ekiti, to complement their Nigerian counterparts in delivering quality services to the patients.
He said that the state Ministry of Health had taken delivery of a consignment of medical equipment and supplies donated by Messrs World Medical Relief of the United States of America.
Thomas said that the equipment, which was worth N75m, was facilitated by Messrs Excel Global Resources Services Limited.