Ogunsakin vows to provide adequate security in Zone 6 during elections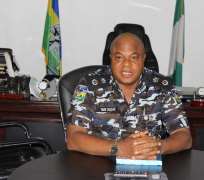 The AIG, Zone 6 Police Command, AIG Tunde Ogunsakin has vowed to provide adequate security in his zone during the forthcoming elections, as he has been described as an officer fit for the demands of Policing in Nigeria.
Ogunsakin made this known when he paid a courtesy call on the Executive Governor of Ebonyi State, Chief Martin Elechi at the State Government house, Abakiliki, on Tuesday.
The Governor who was visibly delighted, called the AIG 'a square peg in a square hole' and expressed his appreciation for the Zone 6 Police Boss who he said was a different breed of AIG. He also expressed his willingness to co-operate with the Police in the Zone. The Governor seized the moment to express his surprise at the recent high prevalence of crime in Ebonyi state citing that it had risen to abnormal proportions in this period of heightened political activity.
AIG Ogunsakin thanked the Governor for receiving him and stated his resolve to uphold the tenets of the Nigerian Police in maintaining order and protecting lives and property within the zone.
The visit to the Governor was part of the AIG's response to the injunction of the Inspector General of Police for all Politicians to sign a peace pact.
He used the opportunity to have a parley with all those involved in the Political process in Ebonyi state. In attendance where; all service chiefs, the state Electoral commissioner, the Attorney General and standard bearers and stakeholders of the major Political Parties.
In his address to the Politicians and stakeholders, he put succinctly that no individual or group will be given a status as 'sacred cow'. He stated that he and his men have a responsibility to ensure credible and peaceful elections in the state. in his words;
'…I have a mandate from the Inspector General of Police, Suleiman Abba, NPM, mni, to ensure that elections… are peaceful and hitch-free. Consequently, as a renowned law enforcer, there is a call to duty which I will deploy my expertise to perform with a view to ensuring that there is no breakdown of law and order.'
He advised against brigandage, malpractice and criminal activities during the electioneering process, quoting sections 128 and 129(4) of the Electoral Act to buttress his point.
AIG Ogunsakin took time out to deliver a lecture to the men of the Ebonyi State Police Command. In his lecture, he thanked the men for their efforts in the discharge of their responsibilities and admonished them to be responsible and uphold the ideals of the Nigerian Police which include among others; Discipline, Prompt response of incidents, zero-tolerance for corruption and commitment to duty. He further highlighted that the welfare of each officer was of paramount importance to him and that all officers will be taken care of.
The men showed their appreciation with three thunderous cheers for the AIG.