Buhari promises to free towns captured by B'Haram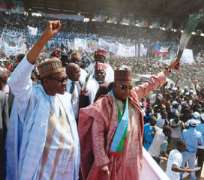 The All Progressives Congress presidential candidate, Maj. Gen. Muhammadu Buhari (retd.) in Maiduguri, the Borno State capital, on Monday promised to liberate captured towns in the North-East from the hold of Boko Haram insurgents.
Security operatives had hectic time controlling the unprecedented crowd that turned out to welcome Buhari to the state, which serves as the base of Boko Haram.
The state governor, Kashim Shettima, had on Sunday declared Monday a work-free day in the state and asked residents to troop out to show their love for Buhari.
Movements were paralysed, especially around the Ramat Square venue of the APC presidential rally.
At the Shehu of Borno's palace, Buhari said, 'I was here in 1975 as governor of the defunct North-East states, I'm happy that I received a befitting welcome; if elected, I will focus on tackling the persistent insecurity affecting the North-East, it is not easy as the damage has been done.
'Your Royal Highness, God willing if APC government is elected, all towns under Boko Haram control will be liberated and rebuilt. It was unfortunate that commercial activities were paralysed following the insecurity. In the past, hundreds of trailers loaded with goods took off from Maiduguri to various neighbouring countries, but presently the reverse is the situation.
'Boko Haram ideology contradicts Islamic principles, because Islam does not allow senseless killings of innocent souls. It is unfortunate that innocent persons were being killed in mosques, churches and their houses. God willing, if APC government is elected we will restore the confidence in governance.'
The Borno monarch, Alhaji Abubakar El-Kanemi, told the APC presidential candidate that, if elected, he should focus on restoration of peace, massive investment, re-construction of federal roads and ensure the success of oil exploration in the Lake Chad region.
The speeches at the rally were continually punctuated by the shouts of 'Sai Buhari.'
The crowd defied attempts at maintaining order as they surged towards the podium to touch Buhari, who is seen in the state as a hero.
The surging crowd destroyed the steel barrier around the podium and damaged the television installation for the live coverage of the campaign rally thus forcing the live transmission off the air.
Those in attendance at the rally included the APC national chairman, Chief John Odigie-Oyegun; Rivers State governor, Rotimi Amaechi; former National Chairman of the Peoples Democratic Party, Chief Audu Ogbeh; Senator Lawal Sha'aibu, Umar Farouk Aliyu, Senator Hadi Sirika, APC Secretary, Mai Mala Bunu; and a former Chief of Army Staff, Gen. Lawan Dambazau (retd.). Agency report