Poll delay to increase demand for dollar - WSTC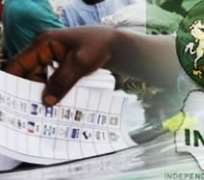 WSTC Financial Services Limited has said the demand pressure in the foreign exchange market will be further heightened by market reaction to the postponement of the general elections.
The company, in a new report entitled 'Postponement of Reprieve for the Markets', noted that the pressure in the forex market had hitherto been sustained by concerns about weak international crude oil prices, low fiscal buffers and domestic uncertainties.
'We believe that the rescheduling of the general elections is tantamount to deferring both socio-political stability, and consequently, reprieve for the financial markets. We believe this does not in any way bode well for ailing investors' confidence and already lean capital inflows.
'We hold a downside view about the value of the naira in the near term,' said WSTC.
The company said in the light of these realities, and given the nation's current low stock of foreign reserves (with almost no hope of any accretion in the near term), it did not believe the Central Bank of Nigeria will be able to effectively hold unto its resolve to continue to defend the local currency.
'Thus we retain our expectation of a further devaluation of the naira in the near term in order to check an avoidable depletion of the nation's reserves.'
The company reckoned that fixed income securities such as bonds and Treasury bills remained a compelling asset class, as it expected yields on fixed income market to remain attractive in 2015.
'Our position is anchored upon aggressive government borrowing as a result of ebbing government income from oil revenue and the maintenance of a tight monetary policy stance by the CBN (particularly in order to preserve positive net capital flows in the face of rising country risk premium).
On equities market, WSTC said although it expected market reaction to elevate political risks to create attractive entry points, it held a cautious view on equities.
'Except for a significant reversal in the international prices of crude oil in the near term (which looks most unlikely), we expect the lull in the equities market to remain, at least, in the pre-election period, given a strong positive correlation between the performance of the Nigerian equities market and investors' perception of domestic risks.
'In addition, we reckon that expectations of depressed corporate earnings and low dividend payout (on account of regulatory headwinds in the banking sector) will further subdue prices in the equities market in the near term,' the company said. - Punch.