ARMY PARADES LEADER OF ANAMBRA KIDNAP GANG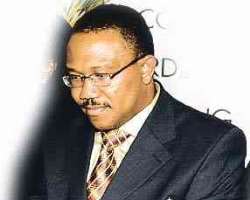 The 82 Division of the Nigerian Army, Enugu on Thursday paraded one Ebuka Ikenwachukwu, an alleged leader of a gang of kidnappers in Anambra State, which claims affiliation to the outlawed Movement for the Actualisation of Sovereign State of Biafra.
Ikenwachukwu, who was dismissed from the Army in 2008, was arrested for impersonating an army officer on December 22, 2009 at Nnewi by soldiers from the military cantonment in Onitsha.
He was arrested with a locally -made pistol, two GSM handsets and numerous sim cards, which were seen as the paraphernalia of kidnappers.
The Army alleged that he was the head of a notorious kidnapping gang in Nnewi, Anambra State involved in the kidnapping of a Chinese man on March 7, 2009.
The Army said suspect was about being handed over to the police for prosecution as an impersonator on Tuesday when an intelligence report indicated that he was a suspected high profile criminal who had been declared wanted by the police for involvement in the kidnap of the Chinese, who died in captivity and was buried by the gang in Ebonyi State.
To establish the veracity of the allegations against the suspect, the Army showed a video clip of a MASSOB member, Innocent Orji, who mentioned Ikenwachukwu as the trainer of his gang members at a press conference held by the former Inspector-General of Police, Mike Okiro in Abuja last year.
Orji alleged that Ikenwachukwu led his boys to attack a police post at Nnewi, where they allegedly stole an AK 47 rifle.
But responding to questions, the suspect described himself as a freedom fighter and not a kidnapper or criminal.
He insisted that though he was acquainted with Orji, most of the allegations the MASSOB member made were false.
He denied allegations that he was dismissed from the Army, saying he had an honourable exit from the military.
He said he was asked to keep the Army identity card found on him until he is paid his gratuity by the authorities.
Ikenwachukwu said he would die fighting MASSOB's cause even as he claimed to be a captain in the Biafran Army that the military uniform he was wearing belonged to the Biafran Army.
He said, 'I didn't train MASSOB members as criminals or kidnappers; I trained them as freedom fighters. The pistol found on me was confiscated from our security because our movement is non-violent.'
But the General Officer Commanding, 82 Division, Maj. Gen. Muhammed Isah, dismissed Ikenwachukwu's defence, saying he is one of those giving the Nigerian Army a bad name through his alleged activities.