JONATHAN'S INTEREST IN SOUTHEAST SECURITY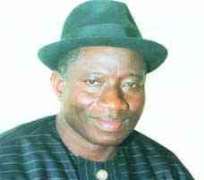 It is heartwarming that Acting President Goodluck Jonathan held a meeting with all five state governors in the Southeast geopolitical zone on March 23, 2010, at State House, Abuja , on the security situation in their area. News reports did not show if the Inspector General of Police, Ogbonna Onovo, was in attendance.
But if the IGP was there, we hope he used the opportunity to tell the governors the home truth, the truth of how some of them have deliberately been making things difficult for him as the nation's foremost security officer and the first south easterner to attain this most prestigious position, a post he attained on merit and in keeping with the principles of justice, fair play and national cohesion.
A particular state governor is well known to use kidnapping as an effective tool to silence his ever-growing band of critics, and his opponents have, in turn, resorted to kidnapping his supporters. This is a governor who was into full-time advance fee fraud business. Far from developing his state, he has engaged in sheer showmanship, self-aggrandisement, narcissism, and outright propaganda to hoodwink the people, in the tradition of the current North Korea leaders and Josef Goebbels of Adolph Hitler's Germany . The governor recently recommended a notorious but very successful 419er to the Federal Government for a national honour.
Intelligence reports from commercial banks with which his state does business show the unconscionable manner this governor scams the state through various bogus programmes and projects. It is, indeed, a shame that some otherwise intelligent people were once under the illusion that this fellow would change in view of the high and sacred office he now occupies. Who has ever seen the leopard change its skin?
What is clear from the above is that Southeast governors and other political leaders from the geopolitical zone have not been using the resources of the people for the common good. Therefore, the area is not developing as fast as it should. One consequence of this state of affairs is growing poverty. There is hardly any Southeast governor who is interested in creating jobs for the people, as Governor Babatunde Fashola of Lagos State has been doing; Fashola has even gone to the extent of finding useful jobs for 'area boys', street urchins who used to be a terror to Lagos residents and business people. Without jobs, crime can only grow. If countries like Sweden , Switzerland and Norway experience no violent crimes like armed robberies, it is precisely because the citizens are fully employed.
But poverty is not the only reason for the growing state of insecurity in the Southeast. After all, the region is not the poorest in the country. In fact, in terms of income per capita, it enjoys the highest rate in Nigeria as the people are reputed to be exceedingly industrious. IGP Onovo was recently quoted as saying that ostentatious display of wealth by the tiny elite in the midst of mass wretchedness contributes to the crime wave in Nigeria . Onovo also mentioned other factors which I will collectively like to call the collapse of values. Let us give an instance with Southeastern politics. One of the people who sought to be the governor of Anambra State in the February 6, 2010, election in the state is someone everyone knows was a drug baron. He has plenty of money but little education. Still, he holds a high public office. Senator Aliyu Nuhu once expressed shock at the fact that some of the people he arrested for heinous crimes when he was the Deputy Inspector General of Police in-charge of criminal investigations are now in the National Assembly.
A great incentive to crime everywhere in the world is not to punish the offender. A greater incentive is to reward crime. In the Southeast, as in some other parts of Nigeria , we have been rewarding and beatifying crime. A society where well known advance free fraud practitioners and drug barons are allowed to occupy sacred public office in the name of politics is doomed. Such a situation can only breed crisis and insecurity. Young men and women in the Southeast daily see common criminals become state governors and legislators, and flaunt their wealth to the applause and admiration of the larger society. It will be tough to convince the youth that crime does not pay.
News around the Southeast is not pleasant at all, security-wise. About half of Nigerians in foreign jails are of Igbo stock; their offences range from advance fee fraud to trafficking in hard drugs to robbery. In Ishielu Local Government Area of Ebonyi State, the Ezillo people are uprooting the Ezza community in their midst which has hitherto been living amicably with them since the 1930s; they are killing not just themselves in their hundreds, but also non-indigenes innocently driving through their towns, including a federal director of Cross River State origin.
The Onitsha Main Market, reputed to be the biggest open market in West Africa , has become the source of all manner of paraphernalia of violence. Almost 2000 rounds of ammunition recently seized by eagle-eyed Nigerian police officers were Onitsha Market-bound from the Republic of Benin.
IGP Onovo is a tested and trusted hand in intelligence matters. He should deploy an efficient intelligence mechanism to not just rid the market of all manner of illegal items, but also bring the merchants of death to justice. Good a thing he has been working with an arm of the British government called the Department of Foreign and International Aid (DFID) in community policing. The entire Onitsha metropolis is in dire need of community policing. Meanwhile, questions need to be asked about why there is absolutely no impact on Onitsha of the Federal Government's ' Safe City ' programme in which seven selected cities in Nigeria , including Onitsha , are to benefit. Over three billion naira was set aside for the project, and the money was handed over to the Ministry of Police Affairs, then headed by Dr Ibrahim Yakubu Lame.
Acting President Jonathan deserves commendation for showing a deep interest in Southeast's security. If he gives IGP Onovo the necessary political support, our zone will reclaim its pride of place.
Ajoku, a lawyer, lives in Owerri, Imo State .