Don't waste prayer time on soap operas, says Pope Francis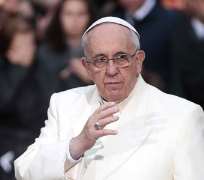 People should not waste valuable prayer time by watching soap operas, Pope Francis has said.
In his latest advice on prayer on Tuesday, the pope said the faithful should also not spend time that could be given over to prayer by listening to idle gossip.
Delivering a homily at a Mass in St Martha's House, the Vatican hostel he lives in, Francis said: "At home, 15 minutes, pick up the Gospel, a small passage, imagine what happened and talk with Jesus about it.
"So your gaze will be fixed on Jesus and not so much on a TV soap opera, for example. "Your ears will be focused on the words of Jesus and not so much on your neighborhood gossip", said the pope.
"This is how contemplative prayer helps us in hope. Living the substance of the Gospel. Always pray".
Francis said that "keeping our gaze fixed on Jesus" is the core of hope. He stressed that if we do not listen to the Lord, we may be "optimistic or positive" people but without the hope that we learn "from contemplating Christ". This led the Holy Father to speak of "contemplative prayer". The Pope said that "it is good to pray the Rosary every day", to talk "with the Lord, when we have a problem, or the Virgin Mary or the Saints ..". But, "contemplative prayer" is important and this can only be done "with the Gospel in hand".
Tuesday was not the first time the pope has underscored the centrality of prayer in a believer's life.
Last year he told a crowd of around 50,000 faithful in St Peter's Square that they should take advantage of bus rides and walks to pray.
"You should never forget prayer," Francis said during his general audience.
"No one realises when we pray on a bus or in the street.
We pray in silence and with the heart.
"Let's take advantage of these moments to pray, so that the (Holy) Spirit gives us this intimacy with God.
"Let's put aside our personal logic dictated by closure, prejudice and ambition and learn to ask the Lord for advice, doing so with prayer… We have to give space to the Spirit to advise us", Francis said. -ANSA.