Killing Of Nigerian Drug Suspects In Indonesia: HURIWA SLAMS Foreign Affairs Ministry
Criticizes Planned Deportation Of Nigerians From Ghana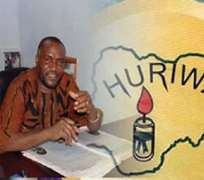 A civil rights group – HUMAN RIGHTS WRITERS ASSOCIATION OF NIGERIA (HURIWA) has carpeted the Nigerian foreign Affairs ministry for doing very little to enlighten prospective Nigerian youthful travelers on the mortal consequences of engaging in hard drugs trafficking. The group also lambasted the foreign Affairs ministry in Nigeria for failing to ensure that consular legal assistance are provided for Nigerians allegedly in conflict with the law in foreign jurisdictions.
The Rights group has therefore proposed comprehensive overhaul of Nigeria's foreign policy to ensure that the fundamental human rights of Nigerian citizens abroad which are universally guaranteed including right to legal representations for those allegedly in conflict with the laws of their host and usually hostile nations especially in Asia are promoted, protected and further enhanced.
HUMAN RIGHTS WRITERS ASSOCIATION OF NIGERIA has also canvassed radical reforms of Nigeria's foreign Affairs communication and publicity department to sufficiently equip it with skilled staff to embark on aggressive enlightenment campaigns within Nigeria and Nigerian embassies abroad to dissuade the Nigerian Youth from the current massive irregular migration to other nations for economic refuge.
HURIWA particularly criticized the proposed deportation by the government of Ghana of 49 Nigerians in Ghana considered to be illegal migrants. The Rights group said the planned deportation if carried out will in no small measure smear the reputation of the recently passed resolution by ECOWAS Heads of Government granting greater powers to the ECOWAS Parliament which has consistently passed binding resolutions for greater and better enhanced economic integration of the member nations of the sub-regional group-Economic community of West African States.
Speaking specifically on the recent execution for alleged drug related crime in Indonesia of the Nigerian duo of Daniel Enemuo and Chibuike Okafor, HURIWA in a media statement jointly endorsed by the National Coordinator Comrade Emmanuel Onwubiko and National media Affairs Director Miss Zainab Yusuf stated that information filtering in from Indonesia and Malaysia is to the effect that many young Nigerians caught for alleged drug related offences were usually denied proper legal representations just as there are groundswells of allegations that the Nigerian Embassies are not actively involved in ensuring that the fundamental human rights of Nigerians are protected especially when they face prosecution in those foreign jurisdictions.
HURIWA has therefore canvassed joint working partnership between the Nigeria's ministry of external affairs and those of the Federal Attorney General and Minister of Justice of Nigeria to set up effective mechanisms and partnership for ensuring strong legal representations for all Nigerians facing prosecution in foreign jurisdictions.
Citing Article 10 of the universal Declaration of human rights that "Everyone is entitled in full to a fair and public hearing by an Independent and impartial tribunal in the determination of his rights and obligations and of any criminal charge against him", HURIWA stated that information available to it shows that the two Nigerians recently executed over drug offences were not granted this global right.
HURIWA also asked the Nigerian government to demand clear explanation from the Indonesia foreign embassy in Nigeria and if the allegations of denial of full legal representations for those already executed Nigerians are established using other independent sources of information from Indonesia, then Nigeria should down grade our diplomatic relation with Indonesia.
The Rights group said the Indonesia government also violated Article eleven of the Universal Declaration of Human Rights [UDHR] which provides thus; "Every one charged with a penal offence has the right to be presumed innocent until proved guilty according to law in a public trial of which he has had all the guarantees necessary for his defence".
On the planned deportation of 49 Nigerians from Ghana, HURIWA has tasked the Speaker ECOWAS Parliament and Nigeria's Deputy Senate President Dr. Ike Ekweremadu to intervene even as the group charged the Nigerian Foreign Affairs ministry to embark on effective media campaign to check the unfortunate increasing involvement of thousands of Nigerian youths in illegal migration. The Nigerian government and the 36 state governments must implement poverty eradication measures and create the enabling environment for the private sector to be more actively involved in creating both jobs and wealth to millions of impoverished Nigerian school leavers and graduates.
HURIWA stated thus; "We have just read from the Ghana based myjoyonline.come that 49 Nigerians classified as illegal immigrants would be deported soon as they were rounded up and paraded by the Ghana's Immigration Department on Monday.
In the report quoted by HURIWA, stated that the director of Public Affairs at the Immigration Service, Francis Palmdeti, told myjoyonline.com yesterday, that the illegal immigrants "are in Aflao being prepared for removal".
"The immigrants entered the country through unapproved routes using the various countries between Nigeria and Ghana. Interestingly, they were travelling with almost all their belongings including mortars, pestles, utensils, beds, furniture and motorbikes among other things. The immigrants, who included six men, 18 women and 24 children, were initially arrested on Friday at Bandai in two Benz buses heading to Chinderi in Volta-North".