Polls: Nigeria cannot afford to bungle general elections, Says Obasanjo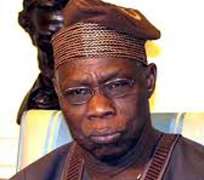 A former president, Chief Olusegun Obasanjo, has said Nigeria cannot afford to bungle the general elections slated for this month, saying the international community is watching the country.
He said this on Sunday at a public enlightenment programme on electoral process, organised by the Organisation of Tadhamunul Muslimeen and The Muslim Congress, Ogun State chapter, held at the Olusegun Obasanjo Presidential Library, Abeokuta.
Obasanjo, who was represented by Chief Idowu Akanle, said there was the need for Nigerians to protect the integrity of the country with their votes, so that we could also be as countries like Saudi Arabia, Qatar and United Arab Emirates, where there is order in governance.
According to Obasanjo, the failure of the elections would bring the nation to ridicule in the face of the international community.
'The elections are crucial and the international community is watching us. We should not disappoint them by ensuring that the elections are free and fair.
'This election is for progress and development of this great country and should be devoid of sentiments, like religion, ethnicity and nepotism.
'This election should be a unity election for all of us," he stated.
The former president said all eyes would also be on the Independent National Electoral Commission and the Nigeria Police to ensure a free and fair elections, with no excuses on prompt arrival of materials and provision of adequate security where necessary.
'We must not make mistake of allowing the international community to make jest of us, as such, those we want to beg are the Independent National Electoral Commission, who had just told us here on how the process would go, to assure us that it shall be well.
'You must be fully prepared. You must be up and doing. No excuses. You know all this terrain very well, there should be no delay and late arrival of voting materials.
'A situation where somebody at Egua will be phoning at 11am that they are still expecting materials will be unacceptable. A situation where the Police will be telling us no fuel to move will be unacceptable," he said.