Alliance of Owerri Zone Indigenes in the Diaspora Choice of Governor for Imo State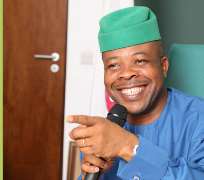 In civilized climes or progressively successful entities, there is a process to problem solving. It usually involves conducting a gap and/or SWOT (Strengths, Weaknesses, Opportunities and Threats) analysis. Either methodology would enable you to identify and isolate challenges, then proffer targeted solutions. Chinua Achebe brings this home in his book, "There Was a Country," when he said "a man who does not know where the rain began to beat him cannot say where he dried his body." Imo State since creation in 1976, has been serially abused by those bestowed with the responsibilities of governing her, except during the tenure of the Late Gov. Sam Mbakwe. Consequently the State has had the dishonor of being among Nigerian States with disgraceful development indices with regard to jobs creation and youth employment, economic development and prosperity, education, healthcare, housing, electricity and water supplies, security of life and property, agriculture and rural development infrastructure, roads, liberalization of Information Technology (IT), industrialization, and fiduciary probity.
This deplorable state of affair in Imo State is not due to a lack of the basic ingredients, resources or potentials for building an egalitarian society, but rather due to some grossly incompetent, corrupt, visionless and/or selfish leaders. They indulge in squander, and become addicted to "easy" federal budgetary allocations as if it belongs to them, their families and cronies. Little effort is put towards developing more long term economically-sustaining and job-creating sectors , such as Agriculture, Tourism, Commerce and Industry, the Service sectors, and more. Other untapped areas are the agro-based and agro-allied, chemical and petrochemical, non-metallic mineral-based and engineering/metallic industries. Also neglected is the huge wealth of Imo Citizens in the Diaspora (everywhere else outside of Imo State), which, if encouraged or incentivized to be repatriated by even a tiny percentage, can transform the State significantly and improve the quality of life for our citizens (or of the lives of our citizens).
Obviously from the above-stated observation, our subpar development is not due to lack of essential economic base to build a modern society for Imolites, but due to the misfortune of some bad or unprepared leaders - part due to our own choosing and part by imposition. Thanks to our burgeoning democracy, every once in a while we do have an opportunity to correct the course. That time has come, and we must and are taking it quite seriously!
Before we get any further, in case there is any doubt, let us get it out of the way that the current Imo State Government led by Gov. Rochas Okorocha has FAILED and will not be getting our endorsement. Gov. Okorocha overpromised and under-delivered by a very wide margin. He allowed himself to be distracted by vendetta against his predecessors and other political foes (even when it involved trampling on the livelihood of 10,000 youths) - causing him to lose focus, misplace priorities, abuse leadership privileges, abuse State funds and mostly, substitute theatrics for governance. He was an unmitigated disaster.
As leaders in private, public and academic circles, we have approached our endorsement of a candidate based on executive search criteria commonly used by fortune 500 organizations. These criteria include requisite academic qualifications, relevant job experiences, probity and accountability, performance track records, values and good morals, vision, and lack of any hovering legal clouds or jeopardy.
After an extensive and in-depth review of the candidates from the top three viable political parties in Imo State, and using the guide posts stated above, we hereby very strongly and enthusiastically endorse Rt. Hon. Emeka Ihedioha, of the Peoples Democratic Party (PDP), and current Deputy Speaker of the Federal House of Representatives, as our choice for Governor.
Hon. Ihedioha is a product of well-known credible schools, namely St. Ephraim Secondary School, Owerri Nta, Abia State and the University of Lagos, Akoka - where he received a B.Sc. degree. He additionally undertook an executive certificate course in financial management from Stanford University and a Leadership certificate course from Harvard University, both world-renowned, prestigious institutions in the United States of America (USA). He received practical post-graduate training as a Communications and Public Relations specialist, and then worked as a Communications expert and Consultant for top-rate organizations, including CEO of First Page Communications, before going into politics.
Since going into politics, Chief Ihedioha has assumed several roles of increasing responsibilities, including Press Officer, Chief Press Secretary, Director of Publicity, Special Assistant, etc. before being elected into the House of Representatives in 2003.
During his tenure at the House of Representative, he served as Chairman of various critical committees, such as, the Committee on Marine Transport, and the Committee on Cooperation and Integration in Africa, before he was elected Chief Whip of the lower chamber and subsequently it's Deputy Speaker.
Ihedioha is a devout Christian and a Knight of the Order of St. Christopher of the Anglican Communion, whose contributions in strengthening the structures of the Church of Nigeria, Anglican Communion, etc. have been well documented. He was recently conferred with Diocesan Merit Award by the Diocese of Mbaise, Anglican Communion. Hon. Ihedioha is a great community builder and a good family man; He is happily married to Lady Ebere Ihedioha, and both are blessed with four children.
With his expansive exposure to power and temptations, it is quite remarkable Hon. Ihedioha is not under any threatening legal clouds or jeopardy for abuse of office or misappropriation of funds.
The Deputy Speaker has been recognized with numerous local, national and international awards for excellence, but the titles he cherishes most are Dad and Husband.
With this endorsement, we, the undersigned and those we represent, do hereby commit to putting all our resources and credibility on the line, to ensure that Rt. Hon. Ihedioha is elected the next governor of Imo State. Subsequently, we will hold him fully accountable for creating thousands of well-paying jobs, bringing quality education, industrial and technologically-based economic vibrancy, healthcare, water schemes, electricity, good road networks, fiduciary probity, security of life and property, and indeed global-scale modernity to the State. We will partner with his administration to mobilize our untapped talents and experts from across the globe, in order to harness and unleash their immense socio-economic potentials for the massive development of Imo State.
God bless Ndi Imo!
God Bless Imo State!
Signatures
Professor Edward Oparaoji, Chairman
Dr. Charlie Nzeakor, Secretary
Eze Chukwuma Nwawuba
Mr. Law Osondu
Dr. Stella Gladys Uzogara
Mr. Patrick Onuoha
Dr. Patrick Nkwopara
Mr. Alozie Aguwa
Dr. Felix Enogwe
Chief Laur Onyekwere
Dr. Onyema Nkwocha
Barr. Placid Aguwa
Engr. Sly Oguh
Mr. D. Chikezie Iloh
Dr. Collins Ugochukwu
Dr. Jude Igbokwe
Professor Jeff Ohanaja
Professor Chieke Ihejirika
On Behalf of the Mbaike, Mbaise, Ngor Okpala and Owerri Federal Constituencies of Owerri Zone, Imo State.
About Alliance of Owerri Zone Indigenes in the Diaspora: We are a political action platform of indigenes of Owerri zone, Imo State, Nigeria, established for the empowerment and actualization of the gubernatorial ambition of the zone, come 2015.
P.O. Box 314, Frisco, Texas, USA 75034 / 610-590-2322/ [email protected]