Jonathan not Ijaw President – PDP tells Tompolo, Asari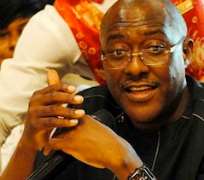 The Peoples Democratic Party (PDP) has warned some ex-militants who have been threatening violence if President Goodluck Jonathan loses the February 14 presidential election to desist from such act.
The party warned them to realise that the President remains the President of all Nigerians irrespective of their tribe, region and religious believe.
National Publicity Secretary of the party, Chief Olisa Metuh, stated this in an interview with selected group of journalists in Abuja on Friday.
Metuh was reacting to the statements credited to some ex-militants that there would be war, or that the country would break, if Jonathan loses the election.
Among those who have made such threats were former leaders of Movement for the Emancipation of Niger Delta, Mr. Government Ekpemupolo (Tompolo) and the Leader of the Niger Delta Peoples' Volunteer Force, Mr. Dokubo Asari.
But Metuh said such comments by the party's supporters must be stopped, warning that the President, who is an Ijaw man like these ex-militants, must not be labelled as the President of Ijaw.
The spokesperson for the ruling party was asked why the party had remained silent over the statements which had attracted condemnation from opposition political parties and eminent Nigerians.
Such eminent Nigerians included a former Minister of Defence, Lt.-Gen. Theophilus Danjuma(retd.), who asked the security agencies to arrest the ex-militants without delay.