Nigerian police killing at will, says Amnesty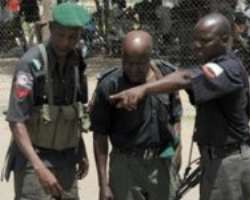 Amnesty says Nigerian police are killing at will.
Nigerian police are carrying out a shocking level of extrajudicial killings and enforced disappearances, Amnesty International says.
The rights group's three-year inquiry details cases of prisoners tortured to death and shootings at roadblocks.
Amnesty says the police complain they are poorly trained and that criminals are often better armed than they are.
On Tuesday, a hospital in Enugu told the BBC it was overwhelmed by bodies being brought to them by police.
The BBC visited the hospital's morgue in the south-eastern city and took photographs, showing piles young men, lying on top of one another and strewn about on tables and floors.
It was established that at least seven people were last seen alive in police custody, accused of kidnapping.
Enugu State police commissioner Mohamed Zarewa told the BBC he was too busy to talk about their cases.
'Brutalised'
"The Nigerian police are responsible for hundreds of unlawful killings every year," said Erwin van der Borght, director of Amnesty International's Africa programme, said in a statement.
"The majority of the cases go uninvestigated and the police officers responsible go unpunished.
"The families of the victims usually get no justice or redress. Most never even find out what happened to their loved ones."
A corrupt police culture, little training or competence with firearms, and the legacy of Nigeria's military era are all contributing factors, the report says.
Nigerian human rights lawyer, Femi Falana, believes police officers are being brutalised by their training regime.
"Police are not trained to respect human beings. They are not taught about human rights of citizens and other people in Nigeria," he says.
"They are not taught that they have a duty to prevent and arrest criminality in the society."
Justification
The Amnesty report's authors are demanding an end to a culture of impunity.
They say police guidelines called Force Order 237 - allowing police to fire on civilians fleeing arrest for serious crimes - must be changed.
Amnesty says the order justifies firing on anyone resisting arrest.
The BBC's Caroline Duffield in Lagos says gauging the scale of police violence is difficult - there is no proper data on civilians killed by police.
Two years ago the authorities announced they had shot dead 785 armed robbers over a 90-day period, she says.
Amnesty says about 110 police officers are killed in shoot-outs with criminals every year.