Fayose's threat on Buhari: APC Campaign petitions Police, SSS, INEC, Others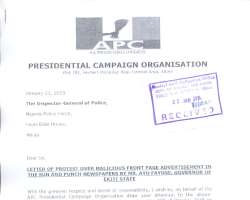 The APC Presidential Campaign Organisation (APCPCO) has petitioned the Inspector General of Police, Mr. Suleiman Abba over the PDP morbid advert sponsored by Governor Ayodele Fayose of Ekiti State and published on the cover pages of two national dailies of 19th January, 2015.
In the petition signed by the Governor of Rivers State and Director General of the Campaign, Rotimi Amaechi, the APC Presidential Campaign condemned PDP and Fayose for portraying its candidate, General Buhari as a dead man walking to scare Nigerians from voting for him in the February 14 election.
According to the petition, the portrayal of Buhari as a likely to die in office just like past northern leaders such as Umaru Musa Yar'Adua, General Sani Abacha and General Murtala Mohammed was "morbid and reckless" and that such irresponsible political advert is not only "in bad taste, but also capable of undermining law and order in the country."
The strongly-worded petition said that insinuating death for a man who is still alive based on unscientific logic or prediction is capable of causing a breach of the peace across the country.
The APC Campaign petition also drew the attention of the IGP to the fact that Fayose's advert violated the spirit and letter of the Ambassador Kofi Annan initiative which, which had Nigerian political parties and their presidential candidates sign a peace accord.
It therefore urged the IGP to investigate the origin of Fayose's "sinister and inhuman"  advert and call him to order with a view to preventing a repeat of such provocative publication in the interest of peace.
The APC Campaign said that copies of the petition have been sent to the Department of State Security (DSS), Independent National Electoral Commission (INEC), Advertising Practitioners Council of Nigeria (APCON) and The Sun and The Punch newspapers.
Signed:
Garba Shehu
Directorate of Media & Publicity
APC Presidential Campaign Organisation
Plot 781 Herbert Macaulay Way
Central Area
The post Fayose's threat on Buhari: APC Campaign petitions Police, SSS, INEC, Others appeared first on Pointblank News .