CBN increases banks' forex trading reserves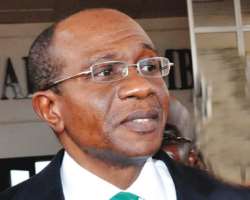 The Central Bank of Nigeria, CBN, yesterday moved to forestall the removal of Nigeria from the JP Morgan's Government Bond Index as it increased banks' foreign exchange trading position.
The apex bank also reversed its decision to ban invisible transactions from the official foreign exchange market, thus making it easy for foreign investors to enter and exit from the nation's financial market.
The apex bank, however, banned banks from selling dollars purchased from the official market and interbank market to Bureaux de Change and other authorised buyers.
Meanwhile, bank foreign exchange dealers yesterday agree to halt trading whenever the naira depreciates more than two per cent in the interbank market.
Last Friday, United States JP Morgan had placed Nigeria on a negative index watch on its Government Bond Index (GBI-EM), threatening to completely remove the country from the GBI-EM if there is no sufficient dollar liquidity in the interbank market to facilitate entry and exit of investors from the nation's financial market.
JP Morgan said: 'If we are unable to verify sufficient liquidity in Nigeria's spot forex and local treasury bond market it will trigger a review. for removal.
'Conversely, if liquidity improves and investors are able to transact with minimal hurdles, Nigeria will be removed from index watch negative.'
To forestall this development, the apex bank yesterday in a circular signed by Mr. Olakanmi Gbadamosi, Director, Trade and Exchange Department, said: 'The Net Foreign Exchange trading position has been reviewed upward, from 0.1 per cent of the shareholders' funds unimpaired by losses, to 0.5 per cent of the shareholders' funds unimpaired by losses.'
This allows banks to hold more dollars for trading in the interbank market and thus increase liquidity in the market.