Stay Away from Bayelsa Presidential Rally; Suspected Ex-militants warn First Lady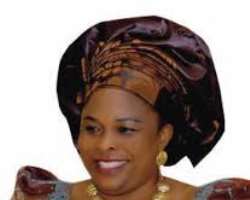 Youths suspected to be ex- militants from the creeks of Bayelsa State, yesterday, warned Dame Patience, wife of President Goodluck Jonathan, against accompanying her husband to the presidential rally of the Peoples Democratic Party, PDP, scheduled to hold in the state on February 5.
The warning followed a similar one by a group which called itself, Bayelsa Youth Vanguard, BYV, barring the First Lady from attending the proposed rally.
The ex-militant youths, under the aegis of the Mangrove Boys of Bayelsa, MBB, asked Mrs. Jonathan to steer clear of the rally over her alleged involvement in an alleged plot to embarrass the state governor, Mr. Seriake Dickson, during the forthcoming presidential rally in the state.
Meanwhile, a coalition of seven youth groups from the state, reacting to the threat, declared their readiness to rally round Dame Patience and warned trouble makers to steer clear of the PDP presidential rally.
The youths, under the aegis of the Jonathan Youth Vanguard, JOY 2015, vowed to use "all means possible" to deal with anti-Patience elements, who had threatened to disrupt the proposed rally if the First Lady accompanied her husband to the state.
JOY 2015 said: "We have concluded plans to mobilise 10,000 youths to attend the rally and provide maximum security for Dame Patience."
Speaking on behalf of the coalition, the state Coordinator JOY 2015, Mr. Daniel Etai, said it will be suicidal for anybody to think of preventing the First Lady from coming to the state, adding: "The authentic youths and students' leaders from the state are eagerly waiting to welcome the First Lady to the state. We commend Governor Dickson for his giant strides in the state. The youths will queue behind the governor to accord Dame Patience a deserving reception."
The anti-Patience group, in a statement by its president, Mr. Opuyo Engobara, accused the First Lady of aiding her anointed governorship candidate, Mr. Waripamowei Dudafa to recruit youths to embarrass Governor Dickson, at the proposed rally.
It lamented the President's silence over the alleged excesses of his wife.