APC raises alarm as Police redeploy AIG Mbu to Lagos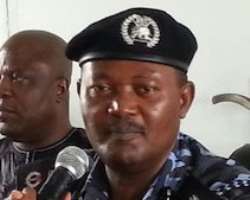 The All Progressives Congress (APC) yesterday raised the alarm over the redeployment of the Assistant Inspector-General of Police (AIG), Umaru Manko from Zone Two comprising Lagos and Ogun states to the National Institute for Policy and Strategic Studies (NIPSS), Kuru near Jos. The police force brought in his FCT counterpart, Joseph Mbu to replace him.
The two AIGs and their 26 other colleagues were affected the deployment, according to a statement issued yesterday by the Acting Force Public Relations Officer, Emmanuel Ojukwu, who described the postings as part of the on-going re-organisation. The exercise takes immediate effect.
Reacting to the development, APC spokesman in Lagos State, Joe Igbokwe at a press briefing at his office in Ikeja, accused the Federal Government of redeploying Mbu to Lagos for an ulterior motive.
Igbokwe, who kicked against Mbu's posting to Lagos, said the state was ready for Mbu. 'Mbu must understand clearly that this is Lagos. Since Lagos was created in 1967, it has been in the hands of progressives, not Rivers or Abuja. This a special state where the best minds live. This is the city of civil societies and the media. We know his antecedents and if he brings all those his unbecoming behaviours to Lagos,we will retire him from the police.
'Mbu is known for some kind of jobs so, it is not in doubt that those who sent him to Lagos, brought him for a mission. We are watching, so before they make any move, we know where they are going. We boldly welcome Mbu to Lagos, but he should tread carefully. He should be carefull. If he fails to heed our advice, we will run him down and he will go down if he tried the threat and abuses he did in Rivers, he will regret them. If he brings those antics he exhibited in Rivers and Abuja, he will regret joining the force.
'We know he is not coming to do normal police routine duties, but we will advise him to drop all those excess baggages he exhibited in Port Harcourt. He was rejected in Rivers, so if he comes here to abuse a sitting governor, we will not take it from him. Governor Fashola is the Chief Security Officer of the state and if he abuses him, we will run him down. We will tell him that this is the city of both the electronic and the print media.
On the redeployment, Mr Ojukwu said the exercise  was necessary after the recent promotions of some senior officers and vacancies occasioned by retirements.
Consequently, the AIG Zone 7, Abuja, Mbu Joseph Mbu is to take over the mantle of leadership as the AIG Zone 2, Lagos while Patrick Dokumor will replace him as the AIG Zone 7, Abuja.
Other deployments are as follows: AIG Tambari Muhammed (AIG Zone 1 Kano); AIG Mohammed Abubakar (AIG Zone 3 Yola); AIG Aderenle Shinaba (AIG Zone 4 Makurdi); AIG Musa Daura (AIG Zone 5 Benin); AIG Johnson Ogunsakin (AIG Zone 6 Calabar); AIG Christopher Dega (AIG Zone 8 Lokoja); AIG Usman Gwarry (AIG Zone 9 Umuahia), AIG Bala Hassan (AIG Zone 10 Sokoto); AIG Ikemefuna Okoye (AIG Zone 11 Osogbo).
Others are AIG Mohammed Gana (AIG Zone 12 Bauchi); AIG Sule Mamman (AIG Force Secretary FHQ); AIG Adisa Bolanta (Commandant POLAC); AIG Edgar Nanakumo (AIG Force Animal Branch); AIG Sabo Ibrahim( AIG Border Patrol); AIG Wilfred Obute (AIG Armament FHQ Abuja); AIG Kalafite Adeyemi( AIG Maritime FHQ); AIG Ibrahim Maishanu (AIG Infotech FHQ); AIG Jubrin Adeniji (2i/c FCID FHQ); AIG Lawal Tanko (AIG PMF FHQ Abuja), AIG Ballah Nasarawa (CMDT PSC JOS); AIG Yahaya Ardo (AIG CTU FHQ); AIG Buhari Tanko (Special Duty, FHQ); AIG Olufemi Adenaike (AIG Training, FHQ).
The rest are AIG Umaru Manko (Director, Study Group, NIPSS, Kuru, Jos); AIG Irimiya Yerima (AIG Communication FHQ and finally, AIG Mark Idakwo (AIG FEDOPS FHQ).
While charging the senior officers to bring their experience to bear on their new postings and be more service-oriented in the discharge of their constitutional responsibilities, IGP Suleiman Abba urges the public to partner closely the force in ensuring improved safety and security.