Ondo: Mimiko presents N130b budget proposal for 2015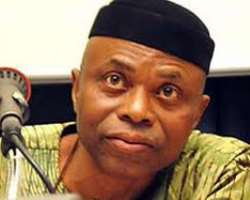 Gov. Olusegun Mimiko of Ondo State on Tuesday presented a budget proposal of N130 billion for 2015 fiscal year to the state House of Assembly.
Mimiko said at the presentation in Akure that N77 billion was for recurrent expenditure, while N53 billion was for capital expenditure, representing 59 per cent and 41 per cent of the budget respectively.
He added that the 2015 budget was less than the 2014 fiscal estimates by N38 billion, explaining that the decrease was due to the fall in the price of crude oil at the international market.
A sectoral breakdown of the capital estimates showed that debt servicing would take the lion share with N13.755 billion, followed by N 7.680 billion for Ondo State Oil Producing Areas Development Commission (OSOPADEC).
The sum of N2.400 billion was for the completion of Omotosho Independent Power Plant, while N1 billion was for airport improvement.
According to the governor, the current realities is an indication that the state must consciously and pragmatically re-arrange fiscal priorities to target the growth drivers of the economy.
The governor said 'we have structured our expenditure priorities in the most practical terms to generate the highest mileage from every Naira spent.
'The nature of our recurrent commitment stipulates that we cannot reduce recurrent expenditure beyond certain level because of personal related cost.''
Mimiko said a modest revenue receipt was projected for 2015 fiscal year to facilitate implementation of the budget.
'The position was arrived at after a careful study and analysis of key economic indicators and other relevant data obtained from the Fiscal Strategy Paper from Federal Government ' the governor said.
The Speaker of the assembly, Jumoke Akindele, assured Gov. Mimiko that the budget proposal would be given speedy attention to ensure service delivery to the people. – (NAN).