2015 Election: 'keke' Operators Reject Gov. Okorocha Endorse Capt. Ihenacho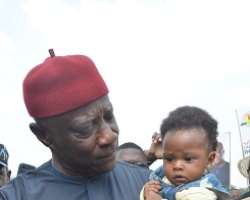 As the general elections draw near, a group of commercial tricycle drivers under the aegis of Owerri Keke Operators have vowed to vote out Governor Rochas Okorocha for abandoning the All Progressives Grand Alliance (APGA) and for filing to deliver the expected dividends of democracy in Imo State.
This was contained in an address presented by the group to the governorship candidate and executives of APGA in Imo State during an interactive session at Orji Town Primary School Owerri recently.
The address which was read on behalf of the group by the group's secretary Comrade James Ureh among other things, noted that over the years, that commercial tricycle operators in the state had been taught that APGA was an Igbo party that upheld the identity of the Igbo man.
'These Keke operators gathered here are people who have been taught that APGA is an Ibo party. Therefore, we will do anything good to uphold the identity of an Ibo man..'.
Continuing, the group remarked that during the 2011 governorship election in the state that members of it association voted Governor Okorocha under the platform of APGA thinking that the governor would protect the identity of the Igbo race and bring solution to the problems confronting the state. The group however, vowed to retrieve their 2011 mandate from the governor for disappointing the people.
While pledging their support to the former Minister of Interior and current governorship candidate of APGA in the state Capt Emmanuel Ihenacho, the association stated its readiness to work for the Emekuku-born international mariner and his party for victory in the oncoming elections.
'In 2011…we made sure that APGA won. We campaigned, voted and protected our votes. In 2015 elections, history will repeat itself. We are retrieving our 2011 mandate to hand it over to you (Capt. Ihenacho) and APGA…. Please co-opt us into your campaign organisation….' they concluded.
In his reaction, Capt Ihenacho thanked the association for its solidarity and promised to provide a more honest and result-oriented governance if voted into office.
Imo APGA Governorship candidate Capt. Emma Ihenacho with some physically challenged during an APGA rally at Central Sch. Amanato Ideato South L.G.A Imo State recently
L-R: D.G. Cat. Ihenacho Campaign Organisation Dr. Anthony Ihedoro, APGA Dep. Gov. candidate Rt. Hon. Ike Ibe and Gov candidate Capt Ihenacho during an APGA rally at Central Sch. Amanato Ideato South L.G.A Imo State recently
Imo APGA Gov. candidate Capt Emma. Ihenacho with a child during an APGA rally at Central Sch. Amanato Ideato South L.G.A Imo State recently
Capt Ihenacho receiving blessing from Bishop Collins Oparaojiaku of Ohaji-Egbema Anglican Diocese during a diocesan Re-dedication Service at St. Paul's Church Obiti Ohaji Imo State