A Peek Into Tomorrow On Born Again Tuesday Report Card By Mazi Odera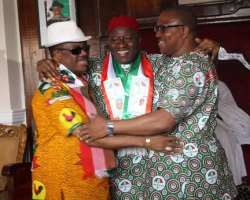 Chief Willie Obiano,Akpokue Dike Aguleri.Executive Governor Anambra state.
Sir,I greet you once again this blessed Tuesday ,this week is with a difference. Like I said in one of my Report Cards ,I re-invite "enwerum onu ike ,adirom agbara ekperima afa" [owing to the booming nature of my voice,I do not do divination to a Rogue because neighbours will hear everything].
I am not one of the friends that believe in waiting till tomorrow what we can solve today.My old man again will always counsel me ,MAZI asokata Eze anya ekpuru nkata na iru gwa ya okwu.
Today ,I will bare my mind to you and your predecessor ,none of you may like it but kedu nke Udene na Barber ?,my business is not to make any of you or any of my friend to like me but my own is to make my state a progressive one ,then Alaigbo ka oburu ebe ano for real.
To make my position clear before I proceed , I am not under any body's pay roll or under anybody's command or contract ,I am man of myself but ,MY ALLEGIANCE lies with Chief Peter Obi simply because he is the man I want to be ,his ways of looking at things and his simplicity melts me.I gave him my allegiance because of what he did for Anambra state and Alaigbo . I am not interested in getting paid by the state because I have been eating before the meeting and adirom ario nri ,meaning the only thing that makes men not to speak out is the simply fear that they will not get monetary reward ,and that is why Alaigbo is going in ruins because Men sold their tongue for a packet of INDOMIE NOODLES .
MY ARGUMENT-
Sir,I remember when you took over Governance after some months when I wrote that ALL is not well between you and your ONOWU [KING MAKER] ,many of this e-RATS that thought they are protecting you , came out spitting in all directions calling me names and pontificating like e-RATS which they are .
Then sometime last year they posted a picture where you and ONOWU met at occasion and snap another picture and they shouted that all is well. I did what I always do ,I asked them to eat dry shit because those pictures were only for PHOTO OP and window decorations, i sited example of ,no matter how bad a relationship between two arch political enemies ,they do not roll sleeve in public ,when they face camera they behave like best of friends ,but behind the Camera they remain CAT AND MOUSE.
Fast forward to what happened at the Palace of AGBOGIDI ,IGWE NNAEMEKA ACHEBE on the17th of January 2015 ,where Agbogidi asked you to embrace Peter Obi and you did ,then he asked Prez Jonathan to join the picture session.I looked at the charade ,I vexed and I took a walk out of the palace ,maka na akarigom nwata akwo na azu welu bakwue nne ya.Later I saw pictures both of you were smilling for the Camera and for the benefit of the Presidency.
The hard truth is –I was disappointed that a Highly revered Igwe like AGBOGIDI will play such game ,he know it and we all know it that ,the level of esem okwu di between two of you ,sorry let me rephrase ,the level of okwu ina esesa Okwute is very high and sophiscated that one Hugging and kisses will not put a dent on it. What I expected him to do ,is to bring only two of you together with Ndi Igwe of various Towns and places ,jointly fa ewelu ofo fa jiri buru igwe kuo unu na abo na isi . Imagine ,One is our current Governor of the state which can be called CENTER of ALAIGBO and the other is ofu anya ndi Igbo ji afu uzo as of today ,but two of you continue your kpukpunkpu ogene .
It is after he[Agbogidi] must have settled both of you ,after both of you may have understood what is at stake here ,it is after a resolution has been passed between OBI and OBIANO ,then and only then can there be a meaningful embrace and kiss up ,but as for the drama acted at AGBOGIDI'S PALACE ,it is nothing but NOLLYWOOD of 1993 not even current one.
I can bet my left arm that since then none of you have called each other or planned to visit one another ,but any other Photo Op, we will see a PERFECT hugging and bugging.
My Governor ,I do not know what offence you may have attributed to Okwute but I will simpy input with what is at my disposal ,after all both of you are RICHER than many of us roped together ,sorry I mean all of us put together and two of you can resolve or will not resolve your differences for all we care but as far as today is concern, both of you MUST ,I did not say will ,MUST RECONCILE for the progress of our state and ALAIGBO.
Do not tell us that he made a mistake by making you the Governor ,sorry ,you may argue that he was not the one that brought you in the actual sense ,yes ,I can give you that ,it was a twisted conspiracy but – without Okwute,s impeccable Record in the state ,the only people that will know your name are Ndi Aguleri and your former colleagues in Fidelity Bank.
Without Okwute,s Money which he injected into your campaign , ,the only people that will know your name are Ndi Aguleri and your former colleagues in Fidelity Bank.
Without his simple nature and personal involvement in the campaign , ,the only people that will know your name are Ndi Aguleri and your former colleagues in Fidelity Bank.
Without the Love Ndi Anambra bestowed on that MULTI BILLIONAIRE with one Wrist Watch ,3 pairs of Shoes and multi colored abada,it was that Love that made them gave him third TERM which he whole heartedly bestowed on you ,without that , ,the only people that will know your name are Ndi Aguleri and your former colleagues in Fidelity Bank.
Now for a man that paid such price and drag you up the Political ladder ,you really should give him some respect ,yes ,I am frank and my openness atimes puts me in trouble but trouble is what I know that is part of life. He deserves some respect from you ,nobody is saying - lie down and let him step on you ,mbanu but same respect that you will expect if you give somebody the same thing OKWUTE gave you without attachments to it ,I know you will expect some serious respect and appreciation at least.
After all Pericome Okoye of Ndi Izuogu si na "nwata buru nmanwu uzo,ya na oso,nmanwu buru ya uzo ,nkwukwu ezue ya aru"[when s child is step ahead of a masquerade ,that child will be running and if that child is unfortunate and the masquerade is ahead of him ,see sweat all over the child ,because He can,t over take the nmanwu].
My Governor ,like is suggested in one of my previous REPORT CARD ,there is no fight between both of you ,it is EGO and the only person that can get this to end is you.But first you have to do away with the counsel of SIR VICTOR UMEH,OHAMADIKE OF AGULU UZOIGBO and TOMB RAIDER OF APGA.I am sure many oso chi egbu's will tell you that he conducted Local Government election and hand them over to you ,some will say he do this or that but the gospel truth is that ,whatever he did ,he left you a healthy account to follow it up ,I know other Governors that inherited debt that is bigger than the amount left for you. I expect you to be THANKFUL and not to get hostile .
Pick up your phone and do what you have to do ,pay him homage because he deserves it and please such moves are not meant for press ,you know his house ,if you don,t ask people that know it ,go to him and two of you ONE ON ONE ,friend to friend and after that I am sure na ANAMBRA will be the best .
What the state wants to see is ,when two of you will seat together in meetings and events in the state.When two of you will be like POLITICAL MENTOR AND MENTEE ,like Friends with understanding and not this muscle unu na anyi .
I will say it again and again ,it will cost you only your EGO to make peace with Obi and you will gain 95% of obi ndi Anambra ,but it will cost you huge sum of money to stay in enmity with him and let me be FRANK AGAIN as usual ,WITH the Fight or quarrel you are having with Okwute ,let me be the first to tell you that you have WAVED BYE BYE to ANYTHING CALLED SECOND TERM in ANAMBRA .
OBSERVATIONS-
Sir,did you observe that Okwute has a tremendous followership ? ,do you also note that he left APGA only himself and he was elevated in PDP beyond dream and yet he refused to open flood gate and move out all his disciples into PDP .
He refused to make public declaration because that will open doors for many people to join him,what I notice is that he still Love Apga with his heart of hearts .
Whisper- Sir ,many departments are crying that the state are owing them salaries ,I pray you to hasten and do something about it.
THEN NKE BU ARU BU NA ,I learnt that the CHIEF OF STAFF refuses to pay your own PRESS CORP ,those men and women that toils with you from Morning till dark ,they hangs around making sure that you get projected ,but I learnt that the Chief of Staff refuses to pay them their own STIPENDS ? .I know that many of them depends on that STIPENDS to transport self to work and back and also eat once a day,if you ask me I will advise you consider making the welfare of this people fall under your direct table,they are the ones that will be your last line of POLITICAL DEFENCE .
I will also inform you that THE LIBRARY is closed because they were owed months of salaries.
ANSU are been owed a ton also .
LASTLY I will inform you that MEDICAL UNITS are being owed for 3 months ,it was 6 months and they paid them 3 months last year December .
SIR ,THE CURRENT ROMANCE WITH UGA BRIGADE WILL SPELL DISASTER ,JUA ASE WHAT WAS THE RESULT OF THE LAST PERSON HE HELPED WITH ELECTION MATTERS ,,,,my old man will cry "WHERE THE ANGELS FEAR TO THREAD ……."
Thanks as I sign off till next Tuesday

Disclaimer:

"The views/contents expressed in this article are the sole responsibility of the author(s) and do not necessarily reflect those of The Nigerian Voice. The Nigerian Voice will not be responsible or liable for any inaccurate or incorrect statements contained in this article."
Articles by Mazi Oderaigbo