Buhari's Presidency Is The Hope For Nigerian Youths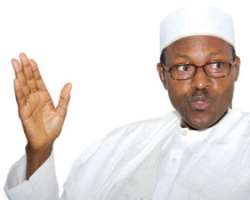 ''Buhari's presidency is the hope for Nigerian youths, yes, it is the only hope for democratic governance in Nigeria.
When Goodluck Jonathan murdered democracy in PDP, Buhari in APC gave it life. In other words, when Goodluck Jonathan killed the only hope through which youths can fulfill their political dreams, Buhari through APC revived it.''
My name is Abdulrazaq O Hamzat, popularly known as Mr.Rights. I represent the Nigerian Youths who stands for truth and human rights.
Over the years, I have always insisted on the need for youths to take a stand especially in the choice of who leads this nation. This is so because,I believe that being youth is an opportunity to effect the changes we deserve in our society. If we fail to effect the changes we deserve as youths, we shall live the rest of our lives hoping on others. For this reason, I have been a major promoter of rights of youths to leadership.
Few years ago, precisely in 2012, I made a publication titled, ''WHY NIGERIAN YOUTHS MUST TAKE A STAND IN 2015'' (http://saharareporters.com/2013/03/11/why-nigerian-youths-must-take-stand-2015-abdulrazaq-o-hamzat) , the article clearly captures what the youths must do in their own capacity as responsible youths of Nigeria.
Since that publication which was a wake up call to my fellow youths, all my activities in collaboration with other responsible youth leaders in Nigeria have been geared towards that act of youth responsibility. The youths must not be blind followers, we must be able to articulate a sound position, we must be democratic, politically oriented and most especially, we must support the best available candidate for Nigeria.
Through our engagement over the years, we have demonstrated responsibility by questioning our leaders rightly in their leadership of the nation. We have condemned and advocated against the wrong practices of our political leaders, we have made adequate input to the choices of our political parties, we have cautioned our religious leaders, we have encouraged our traditional rulers and in all, we have shown that youths can make valuable input to the society without relying on any individual.
Through the social media, we have championed public education and sensitization. We have politically orientated thousands and millions of other youths across Nigeria, we have stood for truth and Nigeria's unity and finally, we have maintained that only the best available Nigerians are good for Nigeria.
We defy the call to join one political party so as to stand as check of the excesses of all parties and so far, we have served as check indeed and now, its time for decision.
Let me inform those still sitting on the fence that, election is your business, you can't sit on the fence when its your business interest, else, your business would be jeopardized. Nigeria's interest must not be allowed to be jeopardized. Don't forget, bad leadership can destroy everything that matters, including the fence you want to sit on. Your fence is crushing, get up and fix it.
Since the youths couldn't stand on an empty floor without our guiding parents and others, we did what we should as political youths, while other veteran politicians also did what they wanted.
The two prominent political party in the build up to the election under go the process of choosing a standard bearer. One party (APC) was democratic, the other (PDP) was undemocratic.
Like we all know, the process is vital. If we follow the good process, it is likely that we would have a good government and if we allow the bad process to succeed, there is no doubt, the government would be bad.
The APC in an open primary election that was well contested by all those who showed interest through a decent democratic process produced a winner, in person of General Muhammed Buhari.
The PDP on the other hand through an undemocratic process denied all those who showed interest in contesting the presidential primary, only Goodluck Jonathan was undemocratically allowed to via on the platform. Apart from those who were forcefully silenced from picking the interest form such as the Jigawa State Governor and others, worth of note are those who actually paid for the forms and were never allowed to contest the primary election. This is the height of undemocratic practice, yes, this is against reason. It is against humanity.
The PDP denied all its members a fair chance to aspire for the number one job, they denied all youths a fair chance, denied all old a fair chance, denied all women a fair chance and in the process denied all Nigerians a fair chance to contest, only one man Goodluck Jonathan was allowed on the platform. This is the end of democracy as far as PDP is concerned. I call it, the one man democracy.
Even the almighty Olusegun Obasanjo never ended democracy this way, he allowed everyone who wish to contest against him do so. He allowed all those who wish to contest the primary, but when democracy is to be murdered under the Incumbency power of Ebele Jonathan, all interest must be killed to accommodate the incumbent president. This is a practice that no youths should be associated with. For no reason, should any sane youth be associated with a man who denied every other man their right to aspire for office. No political injustice under a democratic government can be worse than such denial.
The simple truth is that, Buhari's presidency is the hope for Nigerians youths, it is the hope for the old, the hope for women and even the hope for children. Yes, it is the only hope for a decent democratic governance in Nigeria.
When Goodluck Jonathan murdered democracy in PDP, Buhari in APC gave it life. In other words, when Goodluck Jonathan killed the only hope through which youths can fulfill their political dreams, Buhari through APC revived it.
Because President Jonathan's intent is to kill democracy where no other person has a right to aspire against him, because his interest has been placed above the interest of the nation, because he gave no one a chance to dream and pursue their dreams under his leadership, because he coerce a party to abandon democracy for his selfish interest, because the youths will cease to exist in the context of ''youth'' the day we all accept to support the monopoly of one man's desire is the democracy, therefore, Nigerian youths must reject the ''one man democracy'' as introduced by Goodluck Jonathan. One man democracy is a situation where the interest of only one man is tolerated in a political party. I shall write on that later.
In 2015 election, Nigeria only have two choices to chose from, its either the undemocratic Jonathan or the democratic Buhari, its either we support insecurity, or we end it. If we chose Jonathan, we want the insecurity to continue, we want the unemployment to continue, we want the tolerated corruption to continue, we want the undemocratic practices to continue, we want all the negative things like pardoning convicted criminals,presidential double standard,death to teeming unemployed youths etc, but if we support Buhari, we are embracing change from the status quo.
By choosing Buhari, we are choosing a decent democratic practice that produced him a presidential candidate. This is what i refereed to as doing what you get right over and over again. APC got the process of choosing their party flag bearer right, PDP got theirs wrong. We must encourage APC who did the right thing by voting for that decent process. Probably, PDP would learn that Nigerian are now better informed to make right choices and they would learn to do the right thing in the future .
While it is true that Buhari is indeed old in age, he has proven himself young in principle by diligently following the decent way of democracy. Goodluck who is much younger in age has also shown himself to be too old in principle by forcing himself on the PDP. Force is old fashion.
In a nutshell, Buhari is old in age, young in ways, Jonathan on the other hand is young in age, but old in ways. We can tolerate the old age of Buhari, but never the old ways of Jonathan. We can tolerate the old age of Buhari, but never the corruption of Jonathan. It is corruption that kills a nation, not old age.
Buhari embraces fair contest by all those who desire, Goodlcuk embraces only me is fair. Buhari rejected corruption with all its ramifications, Goodlcuk embraces corruption and pardon convicts. Buhari is moving with time, Goodluck Jonathan is stock behind time.
To conclude this, let me call on all Nigerian youths to chose right, this is the time we have been waiting for. A time where there will be equal chance, a time when everyone of us is free to aspire. Buhari and the APC have provided a platform where you and I are free to aspire without any force to unjustly prevent us. Just like Buhari emerge today in a free and fair primary election, you can also emerge tomorrow through the same process. And just like Jonathan prevented other PDP members from aspiring against him, he will prevent you and me from our aspirations. Don't be prevented from your dreams, support Buhari for the presidency. We are all born free and equal in rights and dignity.
Follow me on twitter @Abdool101
Disclaimer:

"The views/contents expressed in this article are the sole responsibility of the author(s) and do not necessarily reflect those of The Nigerian Voice. The Nigerian Voice will not be responsible or liable for any inaccurate or incorrect statements contained in this article."
Articles by Abdulrazaq Oyeabnji Hamzat