President Jonathan, Start Planning Your Escape Now Should Buhari Win the Presidency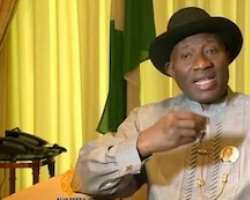 President Jonathan, should Muhammadu Buhari, the retired Major General, win the presidency, you may want to escape quickly to a place like Cuba, Haiti, Russia or Dubai, as nations such as America, Britain or France will not protect you from justice.
In Jonathan's time, Buhari and the world see Nigeria as a country where impunity for the worst corruption-related crimes has been the norm, as evidenced by the recent revelation that the Director of Media and Publicity for your presidential campaign, Femi Fani-Kayode, reportedly has a current case in court for financial impropriety.
Sir, what do you tell the children about anti-corruption mentality when the President's own point of campaign contact, in his position as your public relations manager, is actively fighting a case of corruption in court?
Sir, by this association, you are not only promoting corruption, but indeed putting a blessing to it!
Just pray real hard that the All Progressives Congress presidential candidate, Buhari, loses the election, as if he does not, your instant and public trial for abuses, along with anyone and everyone close to your administration and/or associated with your presidency, will be televised worldwide.
Sir, should you consider attempting to escape, start the plans now because if you are caught in the process of escaping, there is a possibility that your legs would be cut off for attempting to escape, along with being proclaimed a national escapee.
Sir, no form of international plea will be of any help, not even from President Barack Obama, as his administration sees your government as shamelessly corrupt.
The Buhari presidency could carry with it an obligation to prosecute grave crimes of corruption, for example the reported $20 billion public fund that "walked away" with its whereabouts unknown. Or, the Buhari presidency could prosecute you and others for human rights violations, especially against the Nigerian soldiers.
Or perhaps the Buhari presidency could prosecute, as well as sue you, for the forced poverty of the people, forced suffering of the masses, for maladministration, for national incompetence , for the insurgency, and even for entertaining an oppressive form of political party, which is the People's Democratic Party (PDP).
Should your escape plans fail, you may be placed in lock up or under house arrest amid any on-going investigations, especially into corruption.
Buhari could potentially seek out your fellow brother and former master, Diepreye Alamieyeseigha, and reverse the pardon granted to him by you, and bring him back to court for new corruption charges.
Buhari would certainly gain international support as he seeks you and many others out for various offenses. Make no mistake; the statute of limitations will not hold in terms of a period of time to file any corruption case.
President Jonathan, please note that in addition to criminal charges that could be filed against you in Nigerian courts, Buhari would likely send you to the International Criminal Court for appropriate felonies and misdemeanors. As such, you may want to begin planning a daring escape from Nigeria now.
Sir, take this warning very seriously. Just in case you lose, do not worry; you can give a concession speech wherever you are, as long as it is outside the Federal Republic of Nigeria.
Dr. John Egbeazien Oshodi is a Forensic, Clinical and National Psychologist and a former Secretary-General of the Nigeria Psychological Association. [email protected]
Disclaimer:

"The views/contents expressed in this article are the sole responsibility of the author(s) and do not necessarily reflect those of The Nigerian Voice. The Nigerian Voice will not be responsible or liable for any inaccurate or incorrect statements contained in this article."
Articles by John Egbeazien Oshodi, Ph.D.