We lack weapons, buy uniforms, Nigerian soldiers tell CNN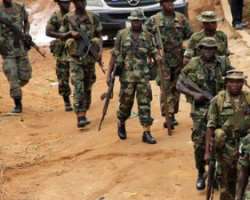 Some soldiers engaged in the war against terror in the North have told CNN that they are not being properly funded and equipped by the Federal Government.
In an interview with CNN, the soldiers, whose faces were not shown, said they were not well equipped and even had to buy their own uniforms.
One of the soldiers, who is currently serving in Jos, Plateau State, said many of his colleagues were forced to flee when they were overpowered by terrorists due to the (terrorists) superior firing power.
'The troop's morale is very low because we are not issued with kits (uniforms and boots); we buy the kits ourselves. I bought mine,' he said.
When asked why the military authorities had not looked into the problem, the soldier said, 'Whatever is allocated for these things, corruption consumes it.'
Asked why he continued to serve under such harsh condition, he said, 'It is a call to serve.'
Another soldier, who showed the CNN reporter his medical papers, said his unit was defeated by terrorists with bigger weapons.  He said his comrades fled, leaving him behind.
He said he remained on the field for three days until he was able to reunite with his unit.
He said, 'We don't have the equipment to fight insurgency. Our equipment are inferior to those of Boko Haram. I feel very bad. In fact, my family has asked me to quit the job. Even after sustaining injury during the battle, they did not pay for my drugs.'
However, the military high command has beratedCNN, describing the network's report as satanic.
In a Facebook message, the military said,  'The Federal Government and the military leadership are concerned, committed and focused on the ongoing fight against terror. The orchestrated blackmail propaganda by entrenched interests as clearly illustrated by the ultra-biased CNN report will not deter the military.
'If it is true that a Nigerian soldier will willfully go against the rules by speaking without due authorisation and misinform the foreign media, then it indicates how deeply committed and how far the interest of these enemies of Nigeria and humanity have gone in trying to undermine and destroy the military.
'The motive of this satanic CNN report should be of concern to all patriots and Nigeria's well-wishers. We believe that appropriate security agencies will also work on the root of this blackmail against the nation. The fight is not for the military alone.' CNN