Most Ajegunle Pastors run their Churches as Family business-Dr.Miracle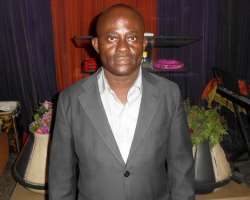 Dr.Richard Miracle is the General Overseer of Living Fire Grace Mission International and a trained Capacity builder from the Institute of Marketing and Sales Management Executive Consultant and others. He is a called deliverance Pastor with a difference in Nigeria. In this interview with Mindset Media Limited, he spoke on the excesses of Ajegunle pastors turning their churches to family church than recognizing God as the founder.
Excepts:
Can we meet you sir?
I am the General Overseer of Living Fire Grace Mission International (a.k.a Breakthrough Garden). I hailed from Umunwanwa village in Umuahia, Abia State. I attended Ladi-lak Primary School in Lagos and Modebe Memorial Secondary School Onitsha and later proceeded to Obafemi Awolowo University (OAU) where I studied English Language. I also served St. Mary Catholic Charismatic Church as a Youth Co-ordinator, CWON-fire ministry before God called me to start my own ministry in 2010 but started as an outreach first. I have also received Mindset Media Achievers Excellence Awards in 2012.
Tell us briefly about your calling into the ministry.
I was not called into the ministry because I was hungry but God gave me the mandate to liberate souls in Ajegunle. I am called into the deliverance and breakthrough ministry.
What is your stake towards Ajegunle Churches now?
Some Ajegunle pastors are running their churches as family business. Even some pastors have been negatively tagged as 'ritualists' in the name of acquiring wealth and large congregation. I cannot allow myself to be used by one satanic personality than God. The Bible says by their fruit we shall know them. The like of Bishop Leonard Umunna of Bible Life Church is a real called servant of God with no allegation. Only endurance can take a genuine pastor to heaven and nothing more.
Are you a full-time pastor?
I m a full-time pastor. God has used non members to bless me. Living Fire Grace Mission International is still a growing church with distinction. We preach on salvation than promoting sin in our church.
Why Ajegunle worshippers don't believe on their pastors?
Some worshippers still believe their pastors like my members believe on my calling. We have poverty-stricken members that want their struggling pastors to give them money to feed.Ajegunle churches need revival than motivational words in the pulpit. Most Ajegunle worshippers are not interested with the word than prophecy from the altar. Some fake pastors have succeeded in deceiving their members with their sugar-coated mouth to collect money.
Who is your mentor in the ministry?
I have many mentors in the lord like Mike Mudock,Jewel Austin,great American preachers and Dr.D.K Olukoya of MFM.
What is your view towards 2015 general elections?
APC has no political portfolio in Nigeria's politics except some states in the Western region. No matter the challenge, President Goodluck Jonathan will win 2015 elections. His transformational agenda is worthy to be emulated in all ramifications.
What do we expect from your ministry this year?
I will be preaching on Hosanna hour and Radio Nigeria by March this year. So Living Fire Grace Mission International is growing on the media. The media is a plus to the ministry. Though it is expensive but it is necessary in ministry. Most Ajegunle pastors are not exposed and educated, so they don't know the value of the media. A pastor can run an online preaching if he or she cannot afford TV or radio. It is way to minister the word of God to people.
What is your advice for young pastors coming up?
Every young pastor must learn to be patient in life. Pastors must go back to the scripture and discover the truth.