Buhari bungled chance to transform Nigeria, says Jonathan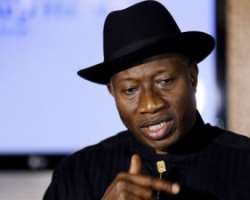 President Goodluck Jonathan on Tuesday said the presidential candidate of the All Progressives Congress (APC) Maj. Gen. Muhammadu Buhari (retd.) had his chance as military head of state but failed to transform the country.
Jonathan therefore asked Nigerians not to allow Buhari to come back to power by stopping him from winning the February 14 presidential election.
The President, who spoke in Osogbo, capital of Osun State, at the presidential campaign of the Peoples Democratic Party said that Buhari would unleash more hardship and unnecessary punishment on Nigerians if he won the poll.
He said Buhari had the opportunity to ensure an effective mass transit system in the country but he did not do anything about it.
He said, 'We have done reasonably well despite the challenges before us. All of you saw the train that just passed through this place now. We promised to resuscitate railway and we did it. All of you saw the train; we can even end the campaign with that.
'Those who have the opportunity to do it but did not do anything about it and they want to come back now. Don't allow them. Mass transit cannot work by using small buses, you need train which will be cheaper.'
The President said that his administration was planning the railway line that would link Lagos State with the eastern part of the nation to make transportation of people and goods safer and cheaper.
Jonathan said that the Federal Government was also working on Ilesa Dam and Ife Dam and that he would do more if he given the opportunity to steer the ship of the nation for another four years.
He thanked the people of Osun State for the support they showed him in the 2011 presidential election while asking the people to show him and the PDP candidates much more support in the 2015 poll.
While further enumerating the achievements of his administration, he said that higher institutions in the state and in other states had been equipped through the Tertiary Education Trust Fund.
The President said that his administration had been working hard to tackle the problem of insecurity created by the insurgents, saying the problem would soon be over.
'We will win the war against terror very soon; terror cannot continue forever. In the next administration terror attacks will be minimal.' he said.