Hometown Backs Dr. Eniola Ajayi for Reps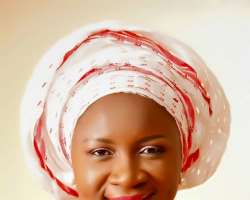 The people of Iyin, in Irepodun/Ifelodun, led by His Royal Majesty, Oba (Justice) Ademola Ajakaye, have solidly supported the political aspiration of Dr. Eniola Ajayi, the APC candidate for Ekiti Central Federal Constituency 1 (Ado/Irepodun/Ifelodun) in the upcoming February National Assembly Elections. Dr. Eniola Ajayi is a native of Iyin-Ekiti.
The endorsement also had the royal blessings of the Oluyin-in-Council, encouraging the people of the town to support the 'illustrious daughter' of the town. It would be recalled that Dr. Eniola Ajayi had served twice as commissioner in Ekiti, as Honourable Commissioner for Education, Science and Technology, and also Environment in the Dr. Kayode Fayemi-led government.
Speaking at His Royal Palace, the King said "I have known her father since 1947 when he was a teacher, Dr. Eniola is my daughter and I am sure she won't disappoint us. She has taken the right step"
"I am also happy that God has chosen one of our children again, to represent us at the National Assembly".
Adopting her candidacy, the quarter chiefs, Chief Esan, the Odofiyin of Ibedo-Iyin, Chief Petu of Oketoro-Iyin, Chief Odofin of Okelawe-Iyin and Chief Asinsin of Iro-Iyin encouraged all Iyin sons and daughters to support her. In their words,
"To the good people of Iyin, Dr. Eniola Ajayi is our only choice and we all have no other option than to stand solidly behind her. Her mother was a renowned and outstanding councillor of Ward 9 in Ado Local Government, who did well when she was in office, likewise Dr. Eniola as Commissioner. We pray she wins"
Her mother, Hon. Anike Ajayi, a former supervisory councillor in Ado Local Government, also prayed for her daughter and sought for the support of the good people of Ado and Irepodun/Ifelodun Local Governments that make up the Federal Constituency.
While appreciating the good gesture of her kinsmen and the Oluyin-in-Council, Dr. Eniola Ajayi promised not to disappoint the confidence reposed on her. In her words
"I am happy that all the chiefs spoke well about me while giving their recommendations. I know that I have done my bit in this town and I am careful as my father taught me, never to disappoint the good people of my town. I am happy I never disappointed the King and the Oluyin-in-Council when I had the opportunity to serve as Commissioner. I am most grateful and I promise once again never to disappoint you"
Earlier on the Ekiti State-owned Media home, EKTV 'Daybreak Nigeria', Dr. Eniola Ajayi, promised to ensure that her manifesto- The Citizen's Charter- where the interest and the rights of the weakest in our links are protected and the life of every Nigerian- young or old, man or woman, strong or weak, in the North or South shall count for something, is implemented through robust legislation.
DR ENIOLA AJAYI
DR. ENIOLA AJAYI 2