#BagaHolocaust: How Nigeria's President, Army Chiefs Caused Death of 2000 Civilians In Decade's Worst Terror Event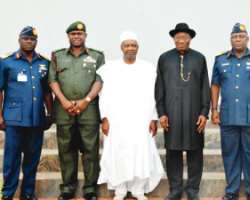 On Thursday October 16th 2014, Nigeria's Chief of defense staff declared a cease-fire with Boko Haram terrorists. The statement by Air Marshal Alex Badeh read: "A cease-fire agreement has been concluded between the Federal Government of Nigeria and the Jamatu Ahlis Sunna Li Daawa Wal Jihad, I have accordingly directed the service chiefs to ensure immediate compliance with this development."
The results of this sham cease-fire are well known. Boko Haram was left to regroup and assert its hold on the territory of the northeast. Strengthened by the stand-down order, Boko Haram went buck wild conquering territory across Borno and Adamawa states as Nigeria continued to pretend that the new terror events were not by these registered terrorists.
With no show of purpose, capacity and seriousness in combating a real and prevalent danger, by the Nigerian authorities, Niger, Nigeria's northeastern neighbor and a vital partner in the multi-national force agreement signed in France immediately withdrew its troops from Nigeria after events of that October.
The Nigerien government cited the impunity of operations of Boko Haram in Nigerian cities as their reason for withdrawal. Quoting BBC:
"Niger Foreign Minister Mohamed Bazoum told the BBC Hausa service: "We have 50 soldiers there and decided to withdraw them after Boko Haram captured Malamfatori town in October and continued to operate in the area with impunity."
Niger further criticized Nigeria for FAILING to contribute its quota of 700 troops as agreed in the Paris Summit, citing this shortcoming as being behind its withdrawal.
Chad, also a Paris Summit participant has since withdrawn its troops from the multi-national forces for its own reasons. The President of Chad, Idriss Deby has been linked with Boko Haram command in multiple media narratives, but in spite of this, Nigeria's President has continued to court him and not taken any serious regional or international actions against the trouble state, home to major terrorist bases, recruitment and tactical command centers.
Furthermore, and compounding an already disastrous picture, media reports in November suggested a withdrawal of Nigeria's own forces from the northeast in a malicious "tantrum" type response over the National Assembly's refusal to approve of an extension of a state-of-emergency request by President Goodluck Jonathan.
700 troops were pledged to be committed by Nigeria, Chad, Niger and Cameroon as part of a multi-national force to BE OPERATIONAL FROM NOVEMBER 1st, 2014. The purpose of this force agreed upon in July of 2014, was to defend against and obstruct cross-border Boko Haram operations. The January 3rd Boko Haram massacre was a typical such invasion event with terrorists crossing to attack Nigeria from bordering Chad.
In cognizance of the afore-mentioned;
Nigeria willfully failed to meet up to the requirements of the Paris Summit, thus rendering its civilians vulnerable to terrorists attacks of the current deadly capacity.
Nigeria failed to seriously address the security risks arising from the failure to keep up with the minimum requirements of the Paris Summit.
By announcing an irrational sham cessation of fire—which has not yet been officially called off—thereby allowing Boko Haram strengthen, Nigeria's leadership relinquished its adroit capacity to wage this war consequently undermining its partnerships.
By ceasing to warn Nigerians especially residents in Baga and neighboring communities left susceptible to attack due to an inadequate force as recommended and advertised, Nigeria facilitated the Baga massacre and the death of over 2000 unarmed and defenseless citizens and the displacement of tens of thousands.
Only after the genocidal massacre of January 3rd+ that left 14 soldiers and 2000 civilians dead, did Nigeria's Chief of defense realize his grievous and confess hurriedly confess to Nigerians that the foreign forces had pulled out.
There must be value for human life. The right to life and security is a fundamental human right as underlined in the Universal Declaration of Human Rights. The January 2015 Baga massacre of 2000 innocent civilians is the most deadly single act of terrorism in the current decade. All those responsible for this atrocity must be held to account.
We demand to know why Nigeria failed to fulfill its undertaking in the Paris Summit; an extension of the sworn obligations of the President and Army chiefs as contained in their oaths of office to the Nigerian people.
Who is in charge of Nigeria and Nigeria's defense and what is their qualification to remain at the helm for another hour even?
If there is a shortage of defense staff, why are Nigeria's teaming unemployed youth not recruited as parallel civilian defense forces as Air Marshal Alex Badeh promised in September of 2014?
We call on the immediate resignation of Nigeria's chiefs of army.
We call on the immediate resignation of the Nigerian President, Goodluck Jonathan.
We charge the United Nations obligated to the protection of human life and human rights to necessitate urgent, appropriate and resounding resolutions and initiate wide-reaching sanctions against the Nigerian leadership.
Dr. Peregrino Brimah; http://ENDS.ng [Every Nigerian Do Something] Email: [email protected] Twitter: @EveryNigerian
Disclaimer:

"The views/contents expressed in this article are the sole responsibility of the author(s) and do not necessarily reflect those of The Nigerian Voice. The Nigerian Voice will not be responsible or liable for any inaccurate or incorrect statements contained in this article."
Articles by Perry Brimah, Dr.