Obiano Wins Integrity, Anti-Corruption Award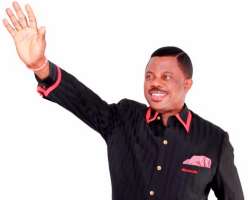 The high-performing governor of Anambra State, Chief Willie Obiano has been named winner of this year's edition of the Nigeria Integrity and Anti-corruption Awards.
According to Ethics and Corporate Compliance Institute of Nigeria who instituted the awards, Governor Obiano earned the confidence of the awards panel for his commitment to public safety and security.
In the words of Dr Dagogo Lawrence, a spokesman of the institute, "Governor Obiano has demonstrated that the challenge of securing of lives and property could be prioritised and achieved with prudent leadership and focused direction."
Speaking further, he explained that "in a very short while in these times of insecurity he has eradicated armed robbery and kidnapping in Anambra State and people who could not return home under previous regimes in the state for fear of insecurity and kidnappings now throng the state on regular basis. This has given fillip to commercial activities and investment drive in the state."
Providing further insight into the awards, Dr Lawrence explained that the award was instituted to "uphold and applaud the courage, determination and great strides that many individuals, companies, government agencies and other organizations have made in improving and integrating Good Governance, Integrity and Anti-corruption in the conduct of their businesses, professional or public service activities within and outside Nigeria."
The award places responsibilities on the Honourees as they are expected to renew their commitment to the ideals of good governance, transparency, integrity, ethics and compliance and not only are they to expect the same degree of commitment from colleagues, agents and other third parties but also they are expected to communicate such expectations.
Throwing more light on the awards, Sir Agabaidu Jideani a Director of the Institute stated that "our award winners and honourees provide a sense of hope and empowerment – they demonstrate that it is possible for Nigerians and people operating in Nigeria to conduct their affairs, businesses &, offices in a manner that places premium on ethics, compliance, anti-corruption and integrity."
Speaking further he observed that "Nigeria has paid and continues to pay huge costs in "reputational capital" for corrupt practices both real and imagined. Consequently our country requires champions and role models who would illuminate the path to integrity and inspire others to action. By this award the honourees have been recognized as champions and role models."
Also honoured along with Governor Obiano are Senate President Senator David Mark, Former Foreign Minister and Commonwealth Secretary General Chief Emeka Anyaoku, former First Lady Dr. Maryam Babangida, the Coordinating Minister of the Economy and Minister of Finance Mrs Ngozi OKonjo-Iweala and former Nigerian High Commissioner to St. James Court UK Dr. Christopher Kolade.
Other winners include the Exam Ethics Project, The Convention for Business Integrity, the Pan African University, Diamond Bank, The Nigerian Armed Forces & the Civilian JTF, the late Professor Chike Obi.
Willie Is Working (WIW)
C/O: Engr Ifeanyi Aniagoh - The Executive Assistant to the Governor on (Social) Media + 234 803 739 1543
Read Willie's Blog @ www.willieisworking.blogspot.com
Like Our FaceBook Page @ www.fb.com/wiwggc
View Our Online Album @ https://www.flickr.com/photos/willieisworking
Join Our Yahoo Group @ https://groups.yahoo.com/group/MeetObiano
Follow us on Twitter @WillieIsWorking on www.twitter.com/WillieIsWorking
WIW - A Peek Into the Days of Chief Willie Obiano in the Government House