Rochas And Madumere Still Unrivaled!
They Still Remain The People's Choice!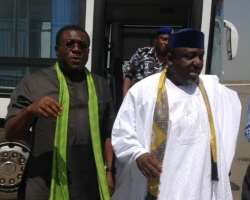 Some expected the popularity of these men to have at least dwindled a bit. But facts on ground continue to speak in ascension. A fame that pierces directly into the living-rooms of the people, who even while asleep they keep singing Rochas, and wake up with Madumere on their lips! They seem to return today's Government's development gestures with love cum an undying support and followership. People have refused to be cowed; highly chuffed are they with what they see today in Imo state, neither do they seem prepared to let it slip off their hands. Testimonies from the Ikeduru/Mbaitoli rally.
It was supposed to have climaxed the Owerri zonal rally, but it ended up doing more than that and in grand style. Bringing to fore the reality of a zone's political demography with huge show of a peoples love, resilience and determination to ensure total victory for APC.
It may also have been home-coming for the Mbaitoli-born Deputy Governor, Prince Eze Madumere, who also happens to be the political leader for Owerri zone, yet it was far more than that! It was emotionally boisterous! In epoch-making speeches they encouraged the Governor to consider allowing their son to succeed him as the next Governor. The Deputy Governor, in his usual trademark humility displayed a most heart-warming show of gratitude by calling on the mammoth crowd to join him in thanking the Governor for an opportunity given to him to serve the Imo people.
The rally witnessed encomiums, appreciations and praises showered upon the best leadership ever experienced in Imo state by Imolites themselves. The rain of sincerity covered the arena; voluntarily on their own, Imolites kept coming in their droves to identify with their Governor, their Governor! There was no dull moment, the atmosphere was electrifying.
Really, it must have been really embarrassing for the opposition. In an electoral contest, the number of people counts. But one wonders, with the number of people at the rally showing true solidarity, where would the opposition in that largely populated area get the numbers to at least come somewhat close to the APC?
All hands must be on deck to ensure protection of votes, for there is always a way out for losers. They must not be allowed to carry out their rigging character. Imolites are much wiser now, and are waiting! Remember, ensure the return of Owelle/Madumere ticket. God bless Imo!
His Excellency, Owelle Anayo Rochas Okorocha with his deputy recently at Abuja Airport.