Technology, best way to fight corruption -Jonathan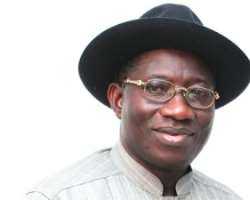 President Goodluck Jonathan says his administration will adopt improved technology to fight corruption in the country.
The president made the statement in Enugu on Friday at the Peoples Democratic Party's presidential campaign rally.
According to him, the best way to fight corruption is through improved technology and not by jailing people for 300 years.
'With technology, you can track down criminals. I am not going to run Nigeria on my heartbeat but according to international best practices. I will continue to run this country based on the rule of law,'' the president said.
Jonathan said his administration had done a lot to transform the country, including security and infrastructure.
He said the Federal Government was working hard to improve the working conditions of the armed forces, including the provision of hardware and other equipment.
The president said Enugu State had also benefitted from the transformation agenda of his administration.
'We have built and rehabilitated more than 200 kilometres of roads in Enugu State. The state has also benefitted from the improved agricultural programmes as well as the automobile policy.
'Automobile companies like Innoson Motors and ANAMMCO are beneficiaries of the automobile policy of this administration,'' he said.
On the ongoing terminal project at the Enugu International Airport, the president said he had directed the contractor handling the project to expedite action on it in order to boost the economy of the South-East.
He urged the youth of voting age to endeavour to get their Permanent Voter Cards and choose leaders of their choice.
Jonathan, however, lauded Governor Sullivan Chime and the people of the state for their unalloyed support for the PDP and promised to do more for them.
In his contribution, Vice President Namadi Sambo urged the people to vote for Jonathan and the PDP in February to ensure continuation of the transformation of the country.
The National Chairman of the party, Alhaji Adamu Muazu, and the Director General of the Presidential Campaign Organisation, Dr Ahmadu Ali, commended the people of the state for their 'unprecedented' support for the president and the party. NAN