BUHARI PHENOMENON AND THE INEVITABILITY OF CHANGE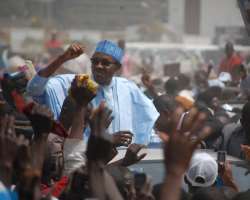 The mammoth crowd of people that thronged the venue ground of Buhari/Osibanjo Presidential flag off campaign in Port harcourt city, and the calibre of people the opposition All Progressive Congress (APC) named as members of the party's "campaign Council", have sent a strong message to the ruling Peoples Democratic Party (PDP). The 2015 general election is undoubtedly going to be a "raging battle" for votes between the 2 dominant parties. The PDP should not be complacent and take the opposition for granted this time around. It MUST be ready to face a fierce and stiff contest on February 14, 2015 Presidential elections.
I am not a soothsayer. I do not possess the power to make prognostication about the unfolding development in my country. The road to 2015 is as clear as day light. If the analysis and opinions by political pundits and discerning Nigerian citizens are anything to go by, there is a likelihood of unavoidable change in the power-game and political equation in Nigeria by 2015.
As rightly pointed out by political observers, politicians in the PDP are not different from the APC in terms of character as most aggrieved party members that defected from the PDP did so because of lack of internal party democracy, official highhandedness, injustice and not for ideological difference. Ideological difference is indeed the least factor that triggers defection from PDP to APC and vice-versa.
Whatever might have attracted the mass defection and influx of heavyweight politicians from PDP to APC, nothing perhaps explains this strange, unusual and extraordinary outcome than the soaring popularity, integrity and natural charm of the party's standard bearer. Buhari phenomenon remains one of the wonders of Nigeria's unpredictable political perplexities.
Since the time he had made up his mind to join partisan politics in 2003, his critics, most of whom have now turned into his fanatical supporters, have accused him of bigotry and Islamic fundamentalism among other regressive tendencies. Speaking to his supporters during the Port-Harcourt mega rally, Buhari said: "People accuse me of many things. But one thing they never accuse me of is corruption. They never accuse me of mediocrity, or of lying." These are certainly attitudes rarely seen in our politicians. They are in fact the appeals that connect and endear Nigerians to GMB.
Though defeated in the last 3 elections, General Muhammadu Buhari's (GMB) popular support today is unparalleled and incomparable to any politician, living or dead in the country. His party, the main opposition APC, has created a wide and deep chasm in the ruling PDP by attracting heavy weight defectors from the mega party that has held sway since the end of military rule in 1999. The APC flag bearer has always been popular among the poor in the North. His integrity, Military Background and disciplinarian credentials are just what the nation wants to check the menace and carnage perpetrated by the militant Boko Haram, as well as replete the nation's battered image and dwindling economy.
We live in a tense and very difficult time. The rich are getting richer, while the poor are getting poorer. Nigeria is a sick nation. It is like a terminally ill patient who survives with the assistance of a life support machine (LSM). People have lost hope and do not believe that things will change for the better. People in the North-East have developed "a steadily escalating sense of foreboding" that the government which is ought to protect them have unfortunately left them to their own devices.
Undoubtedly, the excruciating poverty under which Nigerians live, wanton destruction of lives and property, despondency, fear and false promises are common problems that have given reasons to disenchanted citizenry to yearn for change. In the midst of this extremely dicey and confused future, someone who seems to have the propensity to change negative to positive, dream to reality, pessimism to optimism, surfaces and bring a message of change and hope to people who have been longing for it.
This perhaps explains why Buhari's message of "#thingsmustchange" is receiving a multitude of followers across the nation.
The fiery retired 4 star General has promised to assemble a team of hard working and selfless Nigerians to work hard and fast for the recovery of the nation's wasted resources and self-respect. "Our children will go to school and they will return safe." "Corruption will be a thing of the past and we will ensure that wealth
goes around our citizens in an equitable manner." "Government will conduct itself in a disciplined and responsible manner; we will identify problems and fix them, Buhari told the nation when flagging up his campaign in port-harcourt recently.
My only desire, Buhari told the crowd, "is to prove to you that Nigeria can truly work.
Allow me prove to you that in your lifetime, you can be proud of this country"
February 14, 2015 is the defining moment. It is the day Nigeria's electorates will cast their votes between the incumbent, President GoodLuck Ebele Jonathan and opposition APC presidential hopeful, General Muhammadu Buhari.
Will Nigerians listen to BMG's message of change? Only on that day the answer will be decided.
Saleh Ibrahim Bature
Disclaimer:

"The views/contents expressed in this article are the sole responsibility of the author(s) and do not necessarily reflect those of The Nigerian Voice. The Nigerian Voice will not be responsible or liable for any inaccurate or incorrect statements contained in this article."