CAPT IHENACHO TAKES CAMPAIGN TO MBAKWE'S HOME TOWN
PAYS TRIBUTE TO THE LATE GOVERNOR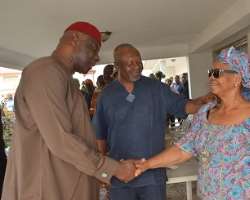 APGA gov candidate Capt Emma Ihenacho, son to late Ex Gov Sam Mbakwe and wife of late Mbakwe Mrs Victoria Mbakwe at Mbakwe's country home in Obowo
The governorship candidate for the All Progressives Grand Alliance (APGA) in Imo State Capt. Emmanuel Ihenacho has said that many politicians in Imo State who have promised to adopt the industrialization type of policy late Ex-Governor Samuel Mbakwe in Imo State had failed because they lack of vision, training and experience in industrialization.
The former Minister of Interior made this remark when he paid a visit to the late ex-governor's family at Obowo Imo State.
Capt Ihenacho who is the chief Executive of Integrated Oil and Gas and Genesis Worldwide Shipping Company, said that late Mbakwe built up to thirty four industries in the old Imo State within five years of his tenure and lamented that for up to twenty years the late governor left office, that no successive government had been able to build one new industry or maintain the ones built by the late governor.
He however assured the people of the state that with his successful track record in business and industry, he would industrialize the state to create a viable economy and job for his people.
Capt Ihenacho who went on the visit with the leadership of APGA and supporters was received by the late governor's son Alex Mbakwe and the deceived ex-governor's wife Mrs. Victoria Mbakwe.