Gov. Obiano Is Guest Of Honour At USAfrica Interactive Forum With Diaspora In Houston 12pm Friday January 9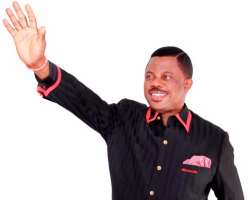 http://usafricaonline.com/2015/01/07/obiano-guest-of-honor-at-usafrica-interactive-forum-with-diaspora-in-houston-12pm-january-9-2015/
The Governor of Anambra State of Nigeria, Chief Willie Obiano, will be the special guest of honor at the USAfrica interactive forum at 12 noon on Friday January 9, 2015 in Houston, Texas. The venue of the international event is the Hilton Hotel Towers at Westchase (9999 Westheimer Road, Houston, TX 77042).
Chief Obiano's performance within one year since his election under the banner of APGA party has been widely commended and earned him the award of "Nigeria's Governor of the Year" 2014 from the international multimedia networks and public policy organization, USAfrica. He will share insights to governance, security and investments at the forum. Significantly, he is returning almost a year to the same day and month and the same multimedia platform where he first spoke — in a very formal setting with such guests as U.S Congressman Al Green — following his election.
A statement issued from Houston by the Founder & Publisher of USAfrica and the first African-owned, U.S.-based professional newspaper published on the internet, USAfricaonline.com, Dr. Chido Nwangwu, articulated why Obiano bagged the prestigious recognition, noting that "in less than ten months of taking over the mantle of leadership of Anambra State, the banker turned politician has, with purposeful zeal attracted investments and with the courageous heart of a bull, confronted the criminals and miscreants who had unleashed mayhem and gripped the peace loving people of the state in the throes of trepidation, fear and death…. Obiano is proving to the people of Anambra and Nigerians, at home and in the Diaspora, that here cometh a man of proven technocratic competence out to put Anambra State on its rightful place on the map of economic development of Nigeria."
He adds that "In the course of the USAfrica Governance Index assessment across the State and other parts of the country, we reached the conclusion that Gov. Obiano has not only done very well in impacting various sectors of Anambra but he has shown that a truly transformative leadership is possible within a relatively short period and utilizing very modest resources to push the great and sometimes boisterous Anambra State to its better heights and security. I believe security is everything! Akpokuedike Obiano challenged and has, so far, subdued most of the bandits and their infrastructure with his battle coinage 'Operation kpochapu' and deployment of crime fighting assets."
USAfrica — with almost 23 years of professional journalism and multimedia publishing business from its headquarters in Houston, Texas — has been acclaimed by the CNN, The New York Times, international scholars and public policy leaders as the largest and arguably the most influential African-owned, U.S-based multimedia networks.
Obiano, a banker, is on the cover of the latest edition of USAfrica magazine.
For more info and updates, log on to www.USAfricaonline.com
Follow USAfrica at Facebook.com/USAfrica247, Facebook.com/USAfricaChido, and Twitter.com/Chido247