2015: Bakare wants polls postponed by 6 months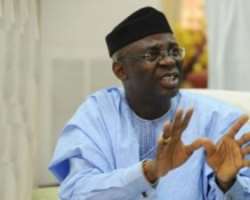 The Convener of the Save Nigeria Group, SNG, Pastor Tunde Bakare and a human rights activist has called on the Independent National Electoral Commission, INEC, to postpone the February general elections by six months to enable it review the election timetable.
He spoke in Lagos yesterday in his state of the nation's address with the theme, 'The Gathering Storm and Avoidable Shipwreck: How to Avoid Catastrophic Euroclydon, at his church, the Latter Rain Assembly.
Warning of impending dangers for the country if the warning signals were ignored, Bakare said the only way to avert the storm was to urgently address some fundamental flaws in the polity.
'I must state that the proposal for suspension of elections is not with a view to giving the president an avenue for undue tenure elongation but for the purpose of building a coalition that will bring lasting solutions to our problems.
'I have clearly painted a picture of where we are, a disaster is ahead of us. If the northerner emerges as winner, whether he has won that election fair and square or not, people will allege rigging. If Jonathan wins the election, fair and square, they will allege that he used his power of incumbency to rig the election.
'The weather is not conducive for any election in February this year for that matter and I have quoted the right sections of the constitution that empower the president and the National Assembly to extend the election for a six months, provided it is not to stay in power or to elongate but to be working critically to ensure that these things are put in place before we go to the elections. This is my considered opinion and I believe I have the spirit of God.
'In suspending the elections and to gain the support of all stakeholders, the president must not act with the intention to seek re-election. Rather, he should, within the period, commit himself to building a non-partisan coalition comprised of major stakeholders and competent statesmen from each geopolitical zone.
'This coalition, headed by the president, will constitute a combined force that will tackle terrorism and address what I have earlier referred to as the fundamentals, within a time frame of two years or less,' he said.