Boko Haram kidnaps 40 boys in Borno …Report an alarmist propaganda – Military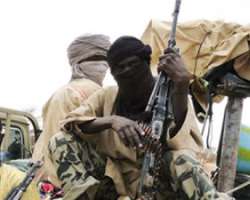 Residents fleeing Malari village in Borno State said on Saturday that the Boko Haram insurgents abducted 40 citizens on New Year's eve.
The Agence France-Presse reports that the terrorists stormed Malari around 8pm and took away people, all males, aged between 10 and 23, into Sambisa Forest.
But the Nigerian military has debunked the report, saying that there was a similar story few weeks ago quoting figures of men and women that were kidnapped but could not be substantiated.
The news of the abductions came only days later, after residents who fled the village arrived in Maiduguri, the state capital, late on Friday.
'They came in pick-up trucks armed with guns and gathered all the men in the village outside the home of the village chief where they preached to us before singling out 40 of our boys and taking them away,' Bulama Muhammad told AFP.
Malari lies 20 kilometres from the Sambisa forest and close to the town of Gwoza, which Boko Haram captured in June declaring it as part of their caliphate.
'My two sons and three nephews were among those taken away by the Boko Haram gunmen and we believe they are going to use them as conscripts,' Muhammad said.
There was no immediate comment on the incident from the military in Maiduguri.
Residents of Malari and nearby villages fled, fearing further attacks and abductions.
One of the people who fled from a nearby village of Mulgwi, Alaramma Babagoni, said, 'When we heard of the kidnap of 40 boys in Malari by Boko Haram, we decided to leave because we could be the next target. Boko Haram has been abducting young men from villages in the area because we are close to their stronghold in Sambisa forest.'
Boko Haram has recently been seizing young men during raids on villages to use as foot soldiers in its uprising aimed at establishing an Islamic state in northern Nigeria, residents said.
On Tuesday, suspected Boko Haram gunmen launched a deadly raid on Kautikari village near Chibok, torched several buildings and killed as many as 15 people, according to witnesses.
The more than 200 kidnapped schoolgirls are still being held by the insurgents since April 2014. Meanwhile, the parents of girls have requested for assistance from United Nations in rescuing the girls.
Meanwhile, a top official raised doubts over the reports, saying that there was a similar story few weeks ago quoting figures of men and women that were kidnapped but could not be substantiated.
According to the military authorities, those rumours of kidnaps are meant to create panic, sustain the atmosphere of insecurity in the North East and ultimately ridicule the nation's armed forces, adding that it "should be scrutinized and not swallowed hook, line and sinker since they have their agenda".
The source said: "Is this not one of those foriegn propaganda they are spreading with their local conspirators. It is one of those phony stories being spread by the locals giving conflicting figures and alarms that are not true.
"The other time they said its about 150 being kidnapped and were they able to justify it? No. They are just trying to be alarmist and that is why the military will keep them guessing." Agency report