10 Things In The Nigeria Media Wouldn't Mention About Goodluck Jonathan.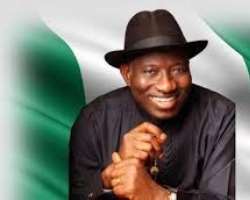 Below is a list of some of the ways in which the His Excellency, Goodluck Jonathan has silently transformed Nigeria from its dark ages of under-development to a much more developed and progressive country:
1. Promotion and practice of true democracy by creating an enabling environment where people from diverse backgrounds and with divergent views and opinions can be accommodated.
2. Conduct of free and fair elections in the country, including the 2011 poll which was adjudged to be the most credible election of its magnitude that has ever been conducted in the country, though it was not without its flaws.
3. Relative non-interference with electoral and judicial matters as evident in the number of governorship elections that have been won both at the polls and in the court by opposition parties in Anambra, Imo, Osun, among others.
4. Liberalization of the press and guaranteeing the freedom of speech in a country where the stifling of the press and suppression of the citizens' right to freedom of speech used to be the norm; a legacy of over 30 years of military rule.
5. Opening up of Nigeria to the global business community and becoming Africa's number one destination of foreign investors. In the first six months of 2014, a total of US$9.70 billion or N1.51 trillion flowed into the national economy as foreign direct investments (FDI).
6. Under the Jonathan administration, Nigeria re-based it's GDP for the first time in over a decade to become the largest economy in Africa, overtaking South Africa and Egypt in the process.
7. Nigeria now has one of the fastest growing large economies in the world with an annual GDP growth rate of over 7.3. Nigeria is on course to break into the 20 largest economies of the world by 2020.
8. The Nigerian foreign exchange reserve reached an all-time high of US$38.1 billion in January 2014.
9. Proceeds from Nigeria's non-oil exports rose to $2.97 billion by the end of 2013, up from $2.3 billion in 2010.
10. Establishment of the sovereign wealth fund of Nigeria in 2012; the first time Nigeria has done so since independence in 1960. It currently stands at US$1.3 billion.
I stand to be contradicted, corrected or exposed with superior fact based information.
Thank you.
Ezeani, Chukwunonso Elvis.
South West Zonal Director.
Communication, Research and Strategy.
PDP National Youth Frontier.
@NonsoEzeani1

Disclaimer:

"The views/contents expressed in this article are the sole responsibility of the author(s) and do not necessarily reflect those of The Nigerian Voice. The Nigerian Voice will not be responsible or liable for any inaccurate or incorrect statements contained in this article."