Gunmen kill 10 villagers in fresh Kaduna invasion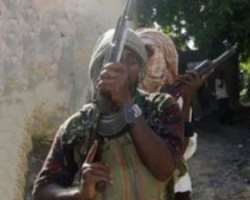 No fewer than 10 persons were on Saturday night killed by gunmen at the Tattaura village in Sanga Local Government Area of Kaduna State.
Tattaura is a community in Ancha District of Ninzo Chiefdom in the southern part of the state. The village is about two kilometres East of Gwantu, the local government headquarters.
During the raid, which started at about 10pm on Saturday night, according to an eyewitness, five other persons were said to have sustained fatal injuries and were rushed to Akwanga General Hospital in Nasarawa State, where they were said to be receiving treatment.
It was gathered that the community usually organised dances among children, youths and the aged during the Yuletide in the area.
The Acting Chairman of the council, Alhaji Nasiru Harande, described the incident as 'unfortunate.'
He said the attacker 'came, shot and fled' to an unknown destination.
Harande said normalcy had returned to the community, but added, '10 people were killed while the five injured persons are receiving treatment in a general hospital in Akwanga.'
Mike Sanga, a community leader from the area, said the attack took place in a shop, where some men were relaxing after a hectic dance.
He said, 'Our community is about three kilometres to Nandu-Ankpong, where 19 people were killed in June, this year. We identified the people killed to be Joel Ambo, a primary school teacher, Yakubu Ambi, Yamu Idzi, Anche Ishaku and Misalai Ngbo.
Others are Ishaya Anche, Monday Samson, Joel Anzah, Jonathan Anche and one, P-Square, a visitor from Randa community. Agency report